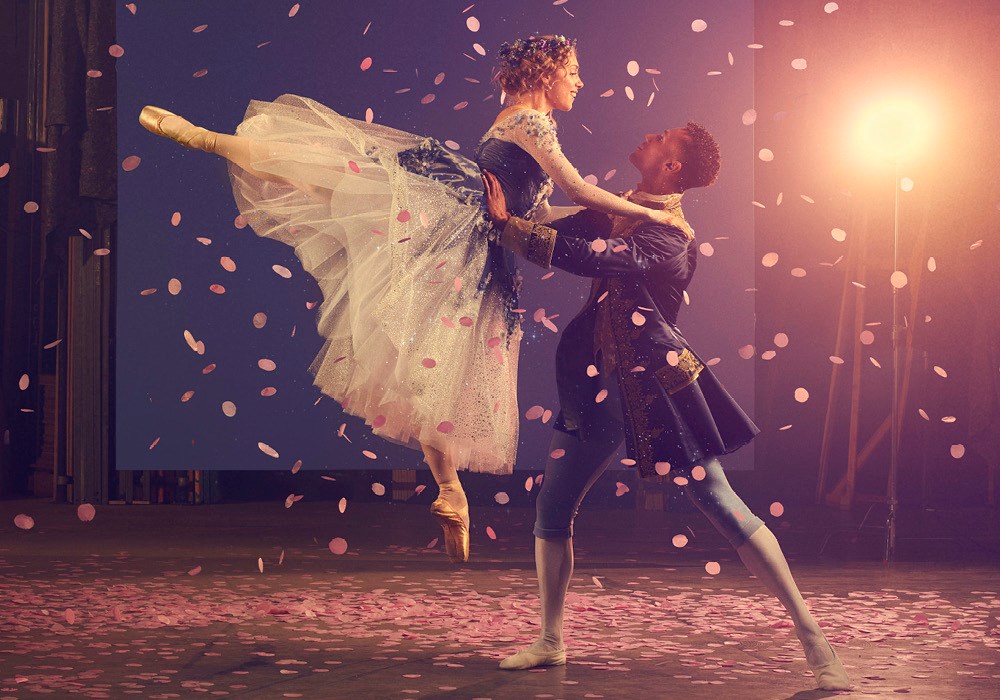 Scottish Ballet's Cinders!
Evenings: 7:30pm | Matinees 2:30pm
Running time: tbc
Save with a Friends Membership
See discounts tab for more details
Scottish Ballet's
Cinders!
A magical new Cinderella story
Scottish Ballet's festive favourite returns for the winter season with a new name, glittering new designs, and a charming twist to the tale.
Breaking with tradition in theatre is a tradition in itself, and Scottish Ballet's playful new production of Cinders will have a surprise in store each night for audiences as the curtain rises: on some nights, Cinders will be a woman, swept off her feet by her Prince, and on others, Cinders will be a man, swept off his feet by his Princess!
Set at the turn of the 20th century in Cinders' family-run emporium, life is sweet until tragedy strikes, leaving Cinders an orphan. Enter the new proprietor, Mrs. Thorne, an intimidating mother of three ghastly children. Treating Cinders with contempt, they turn the store into a garish version of its former self. When the Royal Ball is announced, hilarity, excitement, and chaos ensue as the Thorne family begin their frenzied preparations to attend.
Taking refuge in an enchanted rose garden, Cinders is magically spun into a vision of sophistication and beauty, worthy of charming everyone at the ball. As the story of Cinders and the Thornes unfolds, who will get their fairy-tale ending?
Choreographed by Christopher Hampson, with stunning art-nouveau-inspired set and costumes designed by Elin Steele, and Prokofiev's irresistibly melodic score, performed live by the Scottish Ballet Orchestra, Cinders is everything you adore about the enchanted fairy tale – made sparkling, fresh and new.
Be part of the magic and fall in love with this classic tale all over again.
Tickets from £27.50*
*Ticket price includes a contribution to the theatre development fund which pays for the restoration and upkeep of our theatres. A £1.50 handling charge will be added if you require postage for your tickets.
Dates
Sat 13 Jan 2024

2:30 PM

AD

Audio Description Available

An additional audio track for audiences with sight loss, explaining what's happening on screen or on stage during gaps in the dialogue and sound effects.
Discounts
Friends 20% off on Standard Tickets
Terms and conditions apply
Groups (8+) £6 off Stalls and Dress (excl. Saturdays and Sundays) 
Please note groups cannot be booked online. If you wish to book a Group, please contact our dedicated Groups email, groups@capitaltheatres.com, or phone on 0131 529 6005.

Children £24.50, Stalls or Upper Circle; or £3 off in Dress Circle
Concessions £3 off (excl. Saturdays)
Concessions are limited and may be withdrawn at any time.
25 & Under £10 tickets available to book online on the day of the performance, subject to availability. Find out more about how to sign up. 
Discounts are available to people with disabilities. These cannot be booked online, please contact box office to buy your tickets. If you would like to book a wheelchair space or if you have any special requirements, please phone the box office who can advise. 
All discounts may be withdrawn at any time. 
Access
Capital Theatres aim to be accessible to all.
We are committed to making your visit to our theatres as comfortable and enjoyable as possible. All of our Front of House staff undergo disability awareness training and Dementia Friend Training and will be pleased to assist you should you require any information or help. 
Find more information about access to the Festival Theatre.
Access Performances
Audio description
Touch Tour
Inclusive/ Relaxed Performance
More about the show
Breaking with tradition in theatre is a tradition in itself, and this year, Scottish Ballet aims to surprise and delight audiences, as on some nights the lead character of Cinders will be a woman, swept off her feet by her Prince, and on others, Cinders will be a man, swept off his feet by his Princess! Audiences will discover which 'Cinders' they will experience on the night when the curtain rises.
Is the production for all the family?
Absolutely – it's a beautiful fairytale for Christmas that everyone can enjoy!
In performances where Cinders is a man will a male dancer play Cinders, and a female dancer play Cinders as a woman?
Yes, when Cinders is a man he'll be played by a male dancer. Similarly, in performances where Cinders is a woman, a female dancer will play her.
Will audiences know in advance which gender the Cinders character will be?
No, we think the surprise will add to the fun for everyone! The names of the two dancers playing the leading parts will be posted, but not who is who.
Will the costumes differ?
No – the Princess who sweeps Cinders off his feet will wear the same sensational dress that the female Cinders will wear to the ball in her performances. There will be the same sparkle and glamour in every show!
Will the choreography differ?
Some small sections will, and you might notice some interesting nuances in movement/delivery, which is something we're enjoying exploring. Look out for content being posted on Scottish Ballet's social media, interrogating this more.
Will there be an LGBTQ+ pairing?
Not this time around for Cinders, but there is a gay love story blossoming in the background for a couple of the other characters.
Family

Sat 25 Nov to Sun 31 Dec 2023

Take Part Activities

Fri 12 & Fri 19 January 2024