Explore the show and restaurant discounts your membership offers, how to renew and more useful information.
Welcome Friend
Thanks for being a Friend of Capital Theatres! To help you make the most of your membership, this page lists all the show and restaurant discounts that are currently available to our Friends.
Friends have access to our priority booking line on 0131 529 6002 (please check our FAQ page for up-to-date box office opening times) and you can email any questions outside of these hours to friends@capitaltheatres.com.
Friends Show Discounts
Friends benefit from discounts on a wide variety of shows at Capital Theatres. The list here will always detail the month ahead and is regularly monitored and updated. You can also see the most up to date list of shows with Friends Discounts here. 
Please note these discounts might change on availability.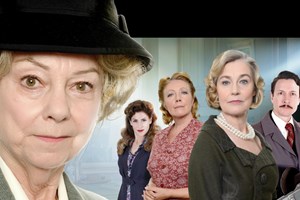 You can also easily find all of our shows which include a Friends Discount simply by filtering our What's On section using the 'Filter' tool.
Click the button below and you're halfway to booking your next trip to the theatre!

Friends Restaurant Discounts
Friends can get discounts on two meals or two drinks per Friends card - offers vary, please see details below. Please always show your membership card before ordering. Some restrictions may apply. Please check with the venue before booking or ordering. 
The current discounts are:
20% off at all of our theatre bars (excl. ice cream)
20% off food and drink at the Festival Theatre Café
20% off dinner menu at Buffalo
20% off at Harajuku Kitchen during pre-theatre hours (12:00-3:00pm and 5-6pm), excl. Fridays and Saturdays
20% off at Hotel du Vin (excl. Sat dinner, Sun lunch, Xmas Day, Hogmanay)
20% off food at Luckenbooths (not valid in conjunction with other offers or discounts)
20% off at Malmaison Edinburgh City, St Andrew Square (excl. Sat dinner, Sun lunch, Xmas Day, Hogmanay)
20% off food and drink at Montpeliers Bruntsfield (not in conjunction with other offers)
15% off food at Solti
Renew your Friends membership
You can renew your Friends membership of Capital Theatres at any time to ensure you continue to enjoy all the benefits. If you renew before your membership has expired, your new membership is added to the end of your current expiry date so you won't lose out.
There are various ways in which you can pay for your Friends membership:
Direct Debit
Simply download and print the Direct Debit form and follow the instructions.
Online
Log into your account using the Login button at the top of this page and select 'My Account' where you will see a button for 'RENEW MY MEMBERSHIP'. If your membership has already expired, you won't see the option to renew, instead you can purchase a new membership. 
Over the phone
You can call our Box Office team on 0131 529 6000 Mon-Sat, 11am-6pm. 
In person
You can visit our Box Office at either the Festival or the King's Theatres. Visit our FAQ page to see up-to-date Box Office opening hours. 
Cheque
Made payable to Capital Theatres. This must be returned to us at the Festival Theatre to the following address: 
Membership
Capital Theatres
13-29 Nicolson Street
Edinburgh EH8 9FT