What does the future hold?
Discover the plans to ensure the King's Theatre thrives for generations to come.
Read our latest update on the King's Future
Help us save the King's Theatre to ensure the theatre doesn't close its doors forever.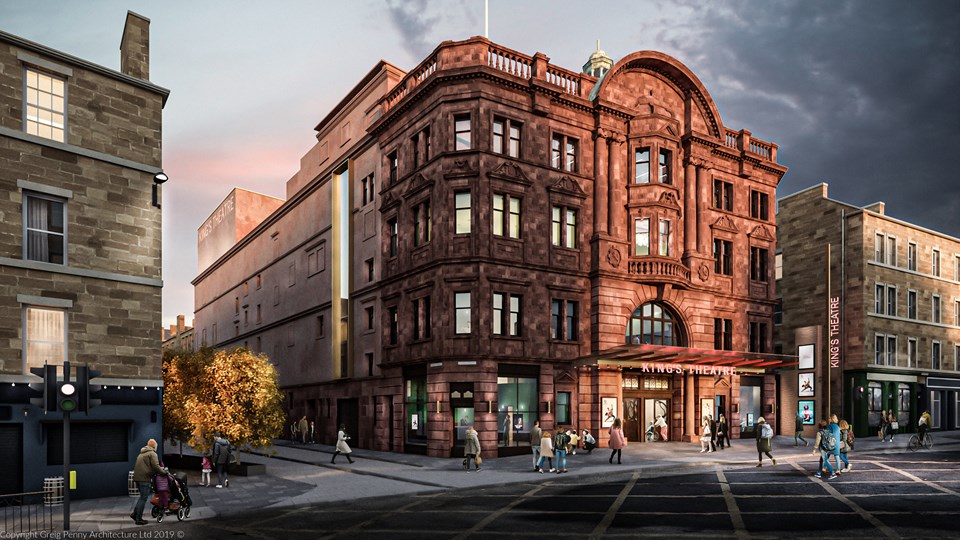 December, 1906. A welcome burst of colour erupts in Edinburgh's industrial Tollcross. A former brewery has made way for a new performance house, and the opening pantomime, Cinderella, is a roaring success – so much so, 'the polis' had to be called to control the crowds. The King's was quickly established as 'The People's Theatre' and 116 years on, that spirit is very much alive.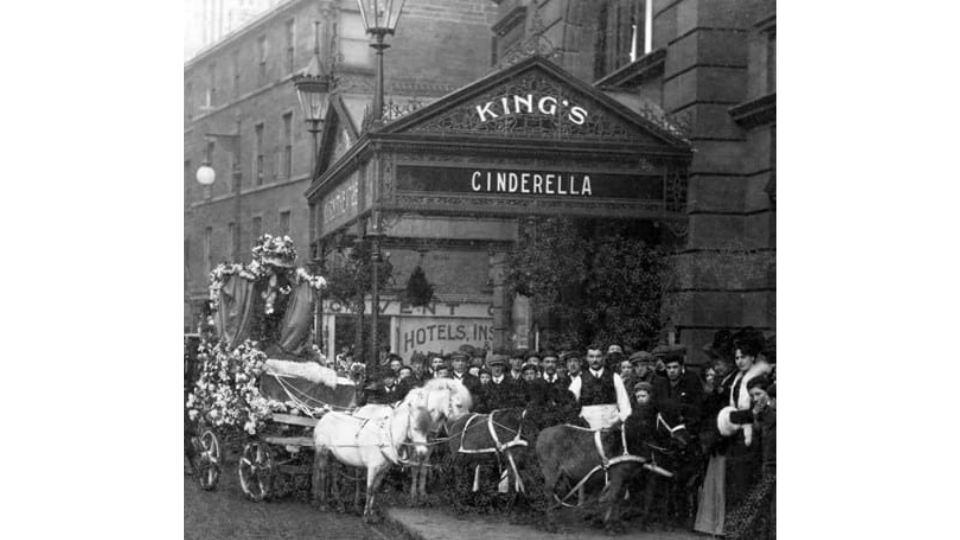 The King's Theatre now welcomes close to 200,000 visitors a year thanks to its varied programme. It is home to Scotland's most popular panto as well as a year-round programme of professional and amateur productions of drama, musicals, and children's shows. It is also a key venue for the Edinburgh International Festival. Its rich history has enshrined the King's as a beloved and critical part of Scotland's cultural life.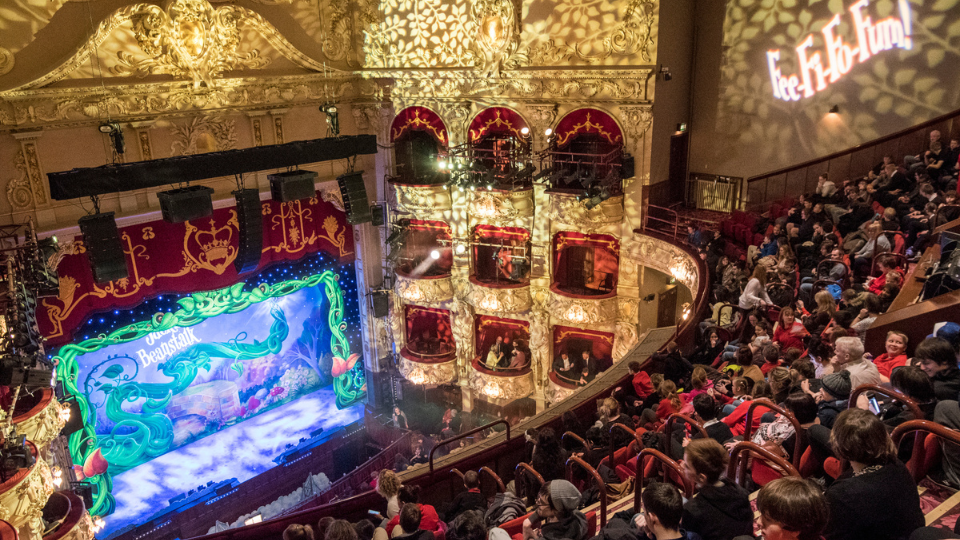 However, without urgent intervention and investment, the King's is at imminent risk of closure. To keep the King's open, we need to render the building fit-for-purpose as a 21st century venue and a welcoming space for audiences.
The King's Theatre is a gem that deserves to be preserved. If we don't invest in our theatres we stand to lose a vital part of Scotland's cultural heritage and a theatre for everyone for generations to come

Brian Cox, Honorary Patron
Find out why this redevelopment is essential from our very own panto villain, Grant Stott.
What improvements are we making?
We will celebrate and preserve the theatre's beauty and heritage and create a modern, vibrant and accessible venue to attract world-class performances and provide excellent visitor experiences for the next 100 years.
We will reinvigorate the artistic programme.
The King's Theatre is an important venue for mid-scale touring companies in the UK. However, the stagehouse has not been updated in decades. Its raked stage, poor orchestra pit functionality and acoustics, and low height of the flytower (the space above the stage), limits the scale and variety of productions we can attract. By raising the flytower, flattening the stage, improving acoustics in the auditorium and orchestra pit, and improving performer facilities, we can attract a greater variety, scale and type of production for a more diverse programme that will attract and inspire more people.
We will be more than just a theatre.
Historically, the King's is only open to the public during performance hours. A new on-street café, flexible bar spaces, a Creative Engagement Suite and permanent Heritage Exhibition will provide opportunities for people to visit the King's through the day as well as in the evenings.
We will engage with communities.
We are currently unable to deliver creative engagement activities at the King's. A new Creative Engagement suite including a flexible studio, kitchen area and fully accessible Changing Places Toilet will remedy this. It will allow us to host an extensive programme of activities, events and workshops, designed with and for communities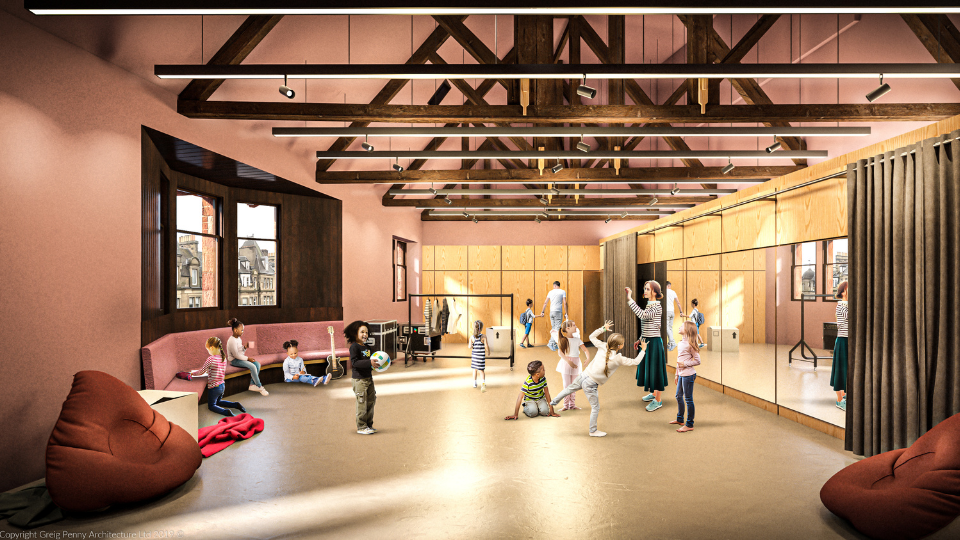 We will become more accessible.
The majority of the King's is only accessible using stairs. Currently, a single wheelchair lift gives access to one area of the stalls and none of the hospitality spaces are accessible. New lifts front and back of house, numerous ramps, and changes to the theatre's layout will make the King's fully accessible for companies and audiences for the first time, giving every visitor and performer an equitable and enjoyable experience.
We will preserve and celebrate our heritage.
The King's represents one of the most complete and important surviving Edwardian theatres in the UK. Whilst adaptations have been made over the years, a considerable level of the 1906 fabric still survives making it internationally significant. Investment will not only safeguard its heritage but celebrate it through the creation of an accessible digital 'People's Archive' and displays throughout the venue which tell the story of the King's Theatre.
Everyone's Theatre
Ultimately, our aim is to ensure that the King's not only survives but thrives as a vibrant and inspiring theatre that everyone can enjoy for generations to come.
Make a donation to the King's
A donation of any size adds up to achieve extraordinary things, please donate today.