Capital Theatres pays tribute to Sir Richard Alston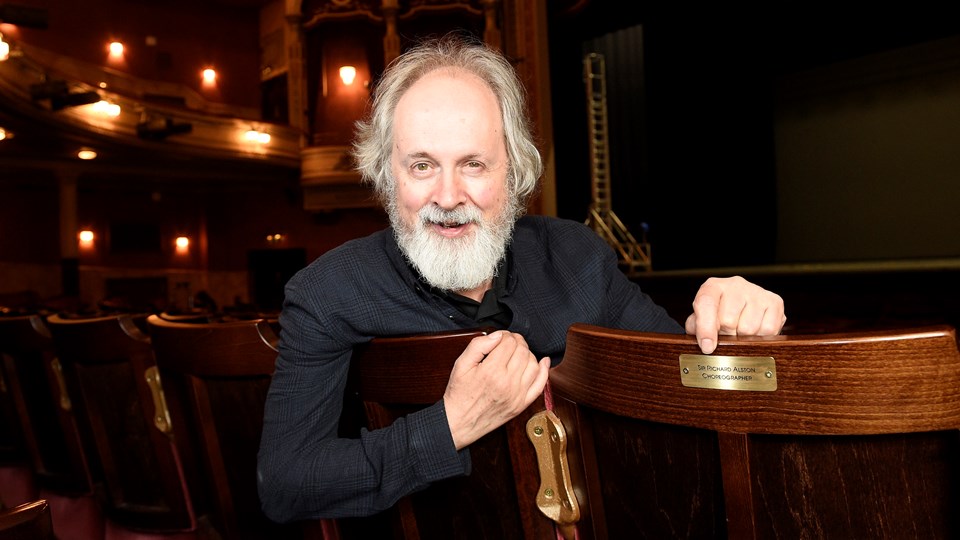 CAPITAL THEATRES PAYS TRIBUTE TO BRITISH CHOREOGRAPHER SIR RICHARD ALSTON
On the eve of Richard Alston Dance Company's final performances in Edinburgh, Capital Theatres has paid tribute to the legendary British choreographer, Sir Richard Alston by dedicating a seat to him at the Festival Theatre.
The dedicated seat acknowledges Sir Richard's remarkable career and his commitment to his audiences in Scotland.
Chief Executive of Capital Theatres, Duncan Hendry, says: 'Richard Alston Dance Company has been a lynchpin of our dance programme. The company launched in 1994, the same year we opened the Festival Theatre and they've been performing here every year since 1999. Their commitment to performing in the Scottish capital, premiering new works here and building an audience for dance in Scotland has been a constant.
The company's dedication to learning and participation has shown the way for other companies to follow, with open rehearsals and workshops for dancers of all ages running alongside the main stage performances. It's our great honour to dedicate a seat to Richard as our warm acknowledgement of his incredible talent, generosity and his dedication to dance.'
Sir Richard Alston greeted the dedication saying: 'The Festival Theatre is one of our truly great lyric theatres. The stage is so spacious and so wonderful for dance and the auditorium is not only beautiful but superbly focussed on to the stage. 
This is why I could not be more deeply honoured that my name is now to be in this wonderful auditorium.  I will remember every visit my company has made to this marvellous theatre with deep love and gratitude.'
Richard Alston Dance Company will perform its final performances in Edinburgh at the Festival Theatre on Friday 27 September and Saturday 28 September. The 'Final Edition' tour, a celebration of revived classics and new work, includes an additional date in Scotland on Tuesday 19 November at Theatre Royal Glasgow. All three dates will give Scottish audiences the chance to say goodbye to one of the world's leading dance ensembles before Richard Alston Dance Company ceases to operate in April 2020.
Over the past 50 years, Sir Richard Alston has played a major role in the world of contemporary dance, developing a unique and distinct dance language and shaping the art form in this country.
Determined to go out with colours flying, Richard Alston has put together a celebration of this company's unflagging creativity, a richly diverse mix of dance and music bringing some brand-new dances along with key works revived from the company's history.
A Far Cry is associate choreographer Martin Lawrance's newest creation set to the impassioned Introduction and Allegro of Edward Elgar, with costumes by Jeffrey Rogador and lighting by Zeynep Kepekli.
Voices and Light Footsteps is the UK premiere of Alston's latest creation. The dance was inspired by the sensuously expressive vocal madrigals and instrumental sinfonias of Claudio Monteverdi, genius of the Italian Baroque.
Mazur is a duet for two friends to the music of Chopin, whose Mazurkas are an intense outpouring of longing for his beloved homeland. Created in 2014 for two former company dancers, Mazur will be revived for the current company of dancers.
Brahms Hungarian, which premiered at the Festival Theatre last year and proved hugely popular with Edinburgh audiences, will culminate the evening, with the hugely popular Brahms pieces played live by solo pianist Jason Ridgway.
The Final Edition tour covers nine different venues across the UK as well as a visit to the Dampfzentrale Bern in Switzerland, followed by an At Home Season at the company's London base The Place. Richard Alston's last work for his company, Shine On, co-commissioned by
DanceEast and Snape Maltings and generously supported by the Tezmae Charitable Trust, will have its world premiere in Snape Maltings, Aldeburgh.