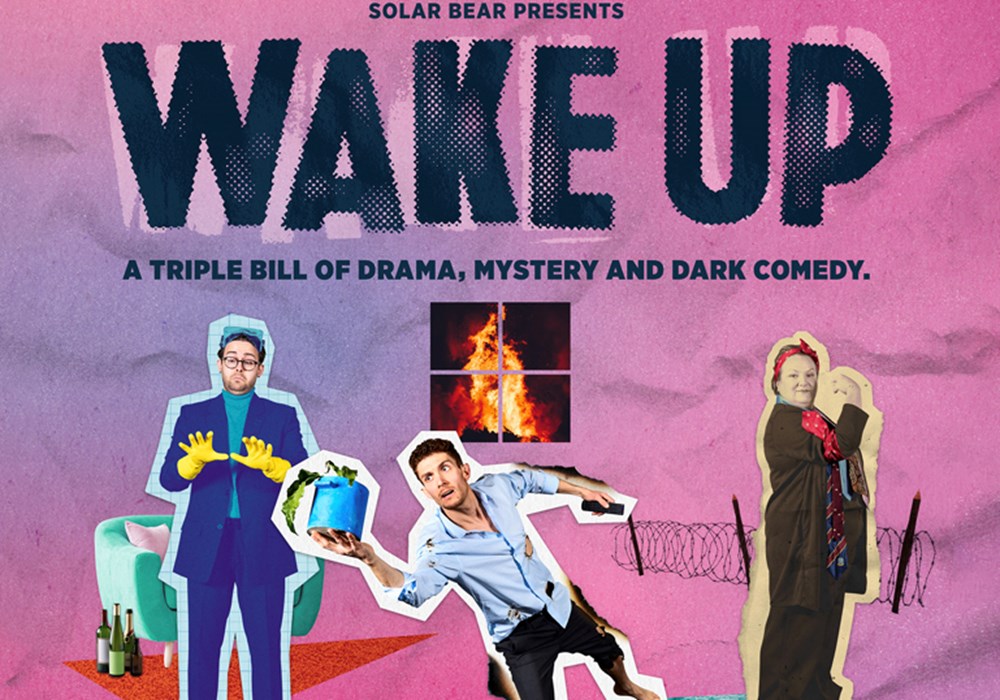 Evening 7.30pm
Running Time: 1 hour 45 minutes
Age: 12+
Please note, this show is accessible to both deaf and hearing audiences.
Wake Up
A family prepares for war.
A man wakes up next to a dead body.
The seas rise, the world is on fire.
Produced by Solar Bear, 'Wake Up' is a triple bill of visual theatre by three trailblazing directors. In three short plays you'll be transported to a world torn apart by conflict, to a future impacted by climate change, and to a small flat the morning after the night before.
Book your tickets for a evening of bold, thought-provoking and entertaining visual theatre, all accessible to both deaf and hearing audiences.

In TIES, a young woman discovers a tie in her grandparent's attic, sparking an emotional story of a family caught up in World War Two. The play explores the way we are tied together across time, bound by our shared humanity.
BLACKOUT: A man wakes to find a dead person next to him on a sofa. What will he do with the body and how did it get there? A dark, twisted comedy.
In TIME TO WAKE UP, a man is jolted from his armchair and onto a rollercoaster ride through the history of life on Earth… and a glimpse into its future. Performed by Petre himself, it's a powerful examination of climate change, and the impact we are having on our planet.
A fantastic display of energy and talent

Joyce McMillan
emotive, sensitive, playful and kind

The List
Video
Tickets from £12.00*
*Ticket price includes a contribution to the theatre development fund which pays for the restoration and upkeep of our theatres. A £1.50 handling charge will be added if you require postage for your tickets.
Dates
Discounts
Concessions (Senior Citizens / Friends) £2 off
Access
This show is accessible to both deaf and hearing audiences.
Capital Theatres aim to be accessible to all.
We are committed to making your visit to our theatres as comfortable and enjoyable as possible. All of our Front of House staff undergo disability awareness training and Dementia Friend Training and will be pleased to assist you should you require any information or help. 
Drama

Tue 26 to Sat 30 September 2023

Drama, Musical

Wed 4 to Thu 5 October 2023

Drama

Wed 11 to Sat 14 October 2023