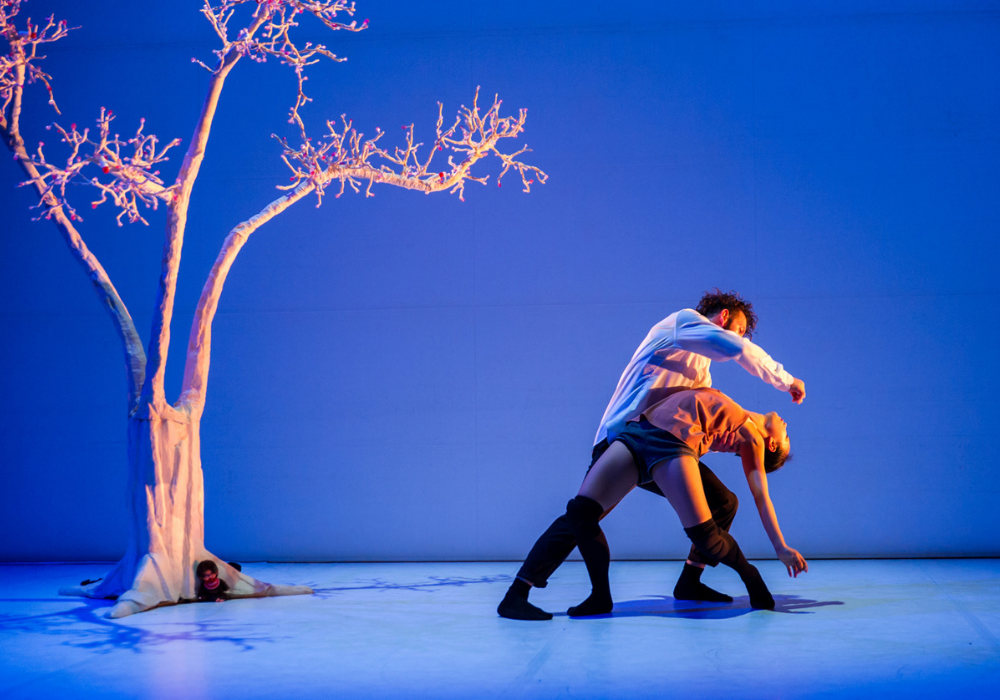 EIF: We Are Monchichi
Fri 19 to Sun 21 Aug

Evening: 6pm
Matinees: 2pm
Running time (approx.): 55 minutes
Tickets bookable via Edinburgh International Festival
Box Office: 0131 473 2000
The Studio
Box Office: 0131 529 6000
Ticket prices
*All tickets are booked and fulfilled by Edinburgh International Festival
Edinburgh International Festival
We Are Monchichi
This dance show for young audiences explores how we connect across cultures and languages.
How do we come together when everything is pushing us apart? What language do we choose? How do we face the mountain of cultural stereotypes?
Shihya Peng was born in Taiwan, but she lives in Paris. Marco di Nardo was born in Naples, but he lives in Berlin.
In We Are Monchichi, Peng and di Nardo play a game of cat and mouse. They carry each other, fly, fall, exasperate each other, then get up and walk together. With each move, jump or chase, the two dancers search for a childhood memory, a country to live in together, or to live in with others.
With humour, We Are Monchichi speaks to the young and to the less young, exploring our inner multiple identities and the way they are jostled by others.
The Refuge series is supported by British Council, Edinburgh Futures Institute at the University of Edinburgh and Claire and Mark Urquhart
Made possible through the PLACE programme
Two dancers in perfect and innovative harmony

Frank L., No More Workhorse
Artists
Refuge Series
Wang Ramirez
Discounts
All tickets are sold via the Edinburgh International Festival.
From priority booking, under-18s are entitled to a 50% discount and disabled people are entitled to a 30% concession discount.
From 8 April 2022, there is a 30% discount for recipients of pension credit, universal credit, employment and support allowance or jobseeker's allowance, art workers, full-time students and 18-25 year-olds . Subject to availability and may exclude top-price tickets. Proof of eligibility may be requested at venues.
Ticket prices may vary from previously published prices.
All discounts may be withdrawn at any time. 
Access
Capital Theatres aim to be accessible to all. We are committed to making your visit to our theatres as comfortable and enjoyable as possible. All of our Front of House staff undergo disability awareness training and Dementia Friend Training and will be pleased to assist you should you require any information or help. 
Dance, Take Part Activities

Fri 21 October

Dance

Fri 21 to Sat 22 October

Dance, Take Part Activities

Sat 22 October