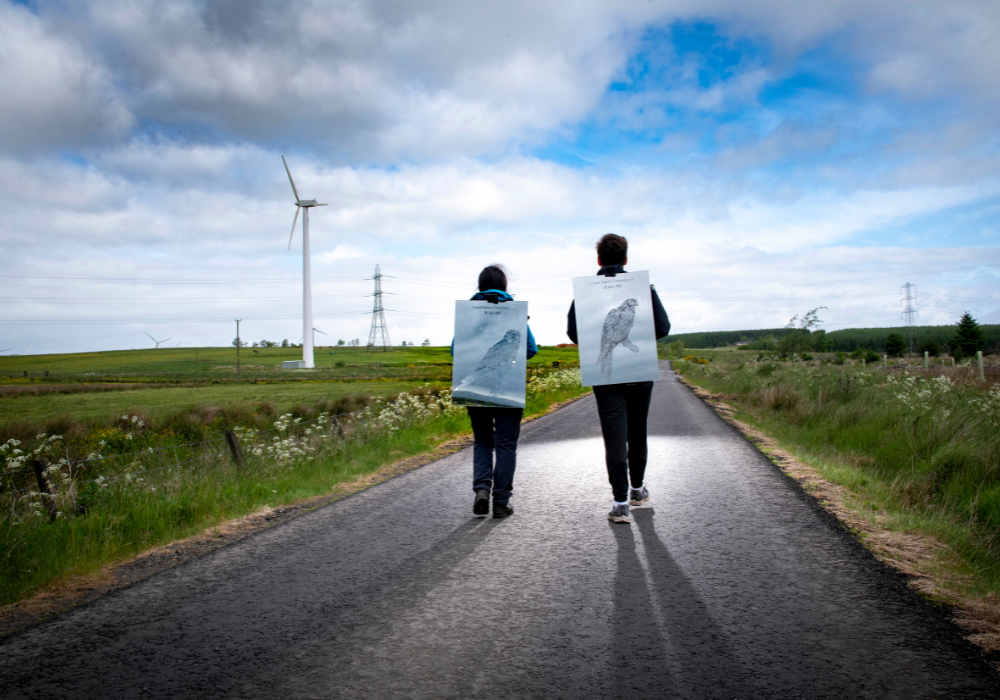 EIF: Amber
Mon 1 Jan 0001 to Sun 14 Aug 2022

6pm
Running time (approx.): 1 hour
The Studio
Box Office: 0131 529 6000
Ticket prices
*Tickets bookable via eif.co.uk
Edinburgh International Festival
Amber
An interactive performance documenting a 23-mile walk from Dungavel Detention Centre to the Home Office in Glasgow.
Amber responds to the different paths people seeking safety might take in their migratory journeys and the difficulty of judging their need for protection based on the way they arrive to UK shores. The performance will be followed by a discussion with the artists and human rights activists.
Paria Goodarzi is from Tehran, Iran and now lives and works in Glasgow. Her work is multi-disciplinary with a background in Contemporary Textile Design and Sculpture & Environmental Art. Francisco Llinas Casas is from Venezuala and now based in Glasgow. His pieces often take the form of immersive installations that feature sound, video and smell; as well as sculptural arrangements, photos, films and prints.
Casas and Goodarzi are co-founders of Distanced Assemblage, an artist-led initiative working in collaboration with diasporic and migrant communities.
The Refuge series is supported by British Council, Edinburgh Futures Institute at the University of Edinburgh and Claire and Mark Urquhart
Made possible through the PLACE programme
Artists
Refuge Series
Paria Moazemi Goodarzi
Francisco Llinas Casas
Discounts
From priority booking, under-18s are entitled to a 50% discount and disabled people are entitled to a 30% concession discount.
From 8 April 2022, there is a 30% discount for recipients of pension credit, universal credit, employment and support allowance or jobseeker's allowance, art workers, full-time students and 18-25 year-olds . Subject to availability and may exclude top-price tickets. Proof of eligibility may be requested at venues.
Ticket prices may vary from previously published prices.
All discounts may be withdrawn at any time. 
Access
Capital Theatres aim to be accessible to all. We are committed to making your visit to our theatres as comfortable and enjoyable as possible. All of our Front of House staff undergo disability awareness training and Dementia Friend Training and will be pleased to assist you should you require any information or help. 
Spoken Word

Sun 21 August

Spoken Word

Tue 23 to Fri 26 August

Spoken Word

Fri 2 September