Welcoming back audiences to our theatres from 29 June 2021 
We are delighted to confirm that we will open our doors from 29 June 2021. Audiences can enjoy a series of socially distanced performances over the summer alongside enhanced COVID safety measures, working towards a full programme of events from the autumn onwards.
Fiona Gibson, CEO, said:
"After closing our doors on 16 March and 'going dark' for longer than any of us would ever have imagined; we're delighted to be able to welcome our audiences back into our theatres. We've worked closely with Scottish Government and the wider theatre industry to ensure that audiences can feel safe, comfortable and secure as they return to the joy of live performance. Our summer programme, using socially distanced seating plans, will build the confidence of audience, staff and artists alike as we look forward to a full programme of events this autumn, bringing you all the thrilling variety and entertainment which Capital Theatres is famous for."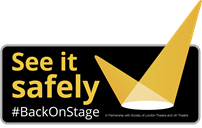 Have a look at our digital brochure here.