Help support the Crowdfunder campaign for FOH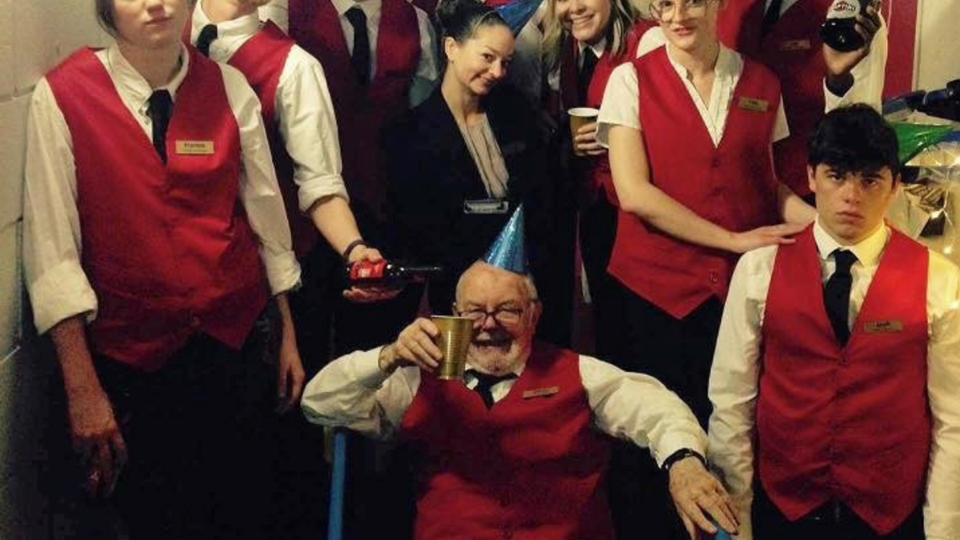 JOIN THE CROWDFUNDER CAMPAIGN TO MAKE NEW EPISODES OF SPOOF DOCUMENTARY 'FOH'
Tom Read Wilson, Harriet Thorpe, Grant Stott and Andy Gray have joined the cast of mockumentary series 'FOH'. Help the makers raise the cash to film the next three episodes at the King's Theatre Edinburgh.
FOH, the spoof documentary that charts the ups and downs of life working front of house in a theatre has started a Crowdfunder campaign to make three brand new episodes featuring a star-studded cast.
Edinburgh writer and director Andrew Dyer filmed the pilot for FOH two years ago which quickly gained over 50,000 views online and developed a strong fan base. The show was inspired by his time working front of house in London and at the King's and Festival Theatres in Edinburgh.
On how the pilot came to be:
"Working front of house is a great place for people watching as the audiences are completely different from one show to the next and there is always a brilliant mix of staff working. Over the years I started to take note of funny situations that would happen and characters that stood out and it seemed only natural that a fly on the wall comedy was the best way to share some of them!"
Dyer is an Edinburgh native, he studied acting at Queen Margaret University before training at the Royal Academy of Music in London. He turned his hand to writing and directing comedy in 2014 where he developed his first Edinburgh Fringe show with comedy partner Michelle Whitney who he met while studying at RAM. (Whitney also features in 'FOH' as Linda the Front of House Manager.)
The pilot proved so popular that he has decided to create more episodes, with some famous faces now joining the original cast, and is turning to crowdfunding where they need to raise £8,000 to make three short episodes.
"We made our pilot on basically zero budget and pulled in a lot of favours to do so and as proud as we are of our pilot we are not able to produce more episodes in the same circumstances. We want to pay for our professional cast and crew as well as cover the various production expenses so any donations made would be greatly appreciated but even just a 'like' and 'share' to spread the word will go a long way!"
'Celebs Go Dating' star Tom Read Wilson is the latest to join the line up of star cameos that includes Harriet Thorpe ('Absolutely Fabulous', 'The Brittas Empire') and King's Theatre panto stars, Andy Gray and Grant Stott.
The King's where 'FOH' is filmed (but not set) is an Edinburgh institution and has been welcoming audiences since 1906. The new episodes will be made in advance of the theatre's major redevelopment in 2021.
You can find out more about 'FOH' and make a donation by visiting: https://www.crowdfunder.co.uk/foh-the-mockumentary
The original episode can be viewed on their Facebook page: https://www.facebook.com/fohthemockumentary
"If you're a theatre fan I hope you will enjoy 'FOH' but I also hope that anyone who has ever worked a customer service job can relate to the people in the show or recognise similar situations they've experienced!"