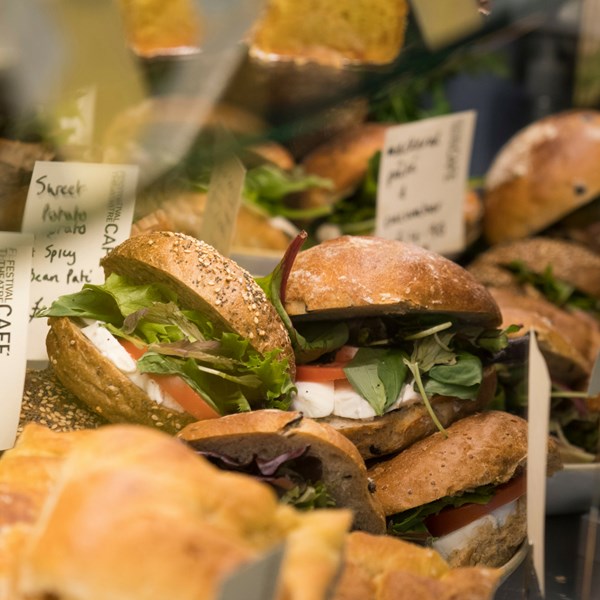 Whether you are looking for a healthy lunch or a guilty pleasure; a quick fizzy drink or a long relaxing cuppa; a place to enjoy the sunshine or watch the rain fall, the Festival Theatre Cafe is the place to be.
Bars at the Festival Theatre
With access to the auditorium split over 5 levels (Stalls on level 1, Dress Circle on levels 2 and 3, and the Upper Circle on levels 4 and 5), the Festival Theatre has 3 foyer levels equipped with a café and bars for servicing each area of the auditorium. See below for more information about our bars and their location.
All our bars have a range of beers, wines, spirits, soft drinks and bar snacks. There are also self-service water dispensers on Foyers 1 and 2. A wide selection of coffees and other hot drinks are available at the Edinburgh Gin Bar whilst on foyer 2 tea and filter coffee is available.
Our drinks menu
-
Help us reduce single-use plastic
With over 90% of plastic currently not being recycled, it is more important than ever to reduce the use of single-use plastic. To help do our bit, we have introduced a reusable plastic cup deposit scheme at the Festival Theatre.
If you wish to take your drink into the auditorium, remember to ask for a reusable cup in exchange for a £1 deposit from any till point (bars, café, merchandise desk or Bars App desk). To get your deposit back, return your cup to any bar after the performance. Any uncollected deposits will be donated to the costs of future green initiatives at our theatres.
You can pay for your deposit with cash or credit/debit card separately or as part of your drink order, but please note the deposit can only be returned in cash.
Where can you purchase drinks, ice creams or programmes? 
On the ground floor, we have our Festival Theatre Café and the box office. On Foyer 1 (F1 on our wayfinding signage and located between auditorium Levels 1 and 2) we have the Edinburgh Gin Bar and The Wine Bar (see below for more information). 
On Foyer 2 (F2) we have the Milburn Gallery which has a further 2 bars. This area is best for those sitting in the Upper Circle or Dress Circle level 3.
On Level 1 (Stalls) we also have a merchandise counter where you can purchase show programmes, merchandise, soft drinks, sweets and delicious S.Luca ice cream. At the interval of each performance, our Front of House staff will be selling ice creams inside the auditorium. Programmes are available for purchase inside the auditorium pre-show.
The Edinburgh Gin bar
We are proud to work with local gin producer, Edinburgh Gin. At this bar you will find the full range of Edinburgh Gin products including some limited-edition gins and the ever-popular Edinburgh Gin Liqueurs – when added to a glass of Prosecco it creates the ultimate Gin Fizz.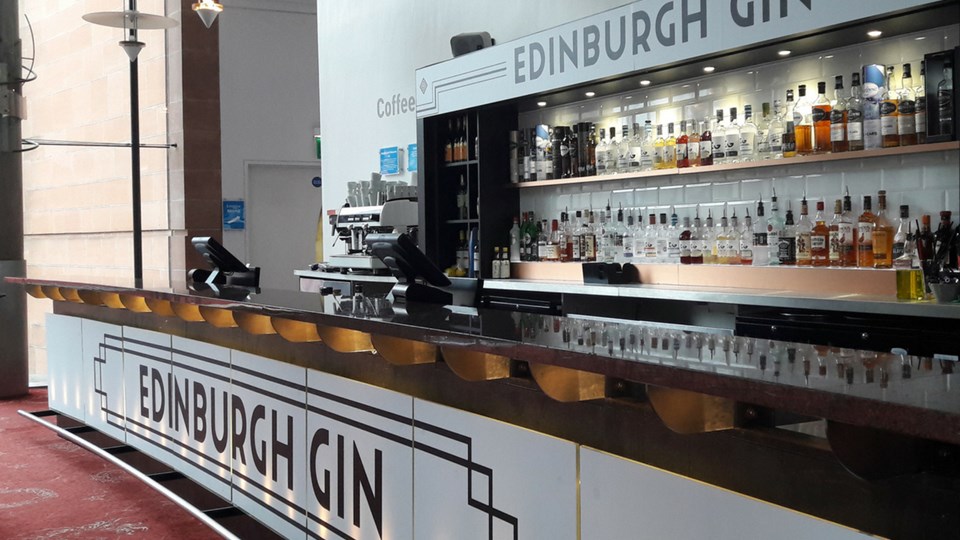 The Wine Bar
We work closely with our suppliers and present an interesting and varied selection of wines in this bar. Champagne by the glass is also available from here so before we raise the curtain on the performance you can head here and raise a glass, relax and enjoy!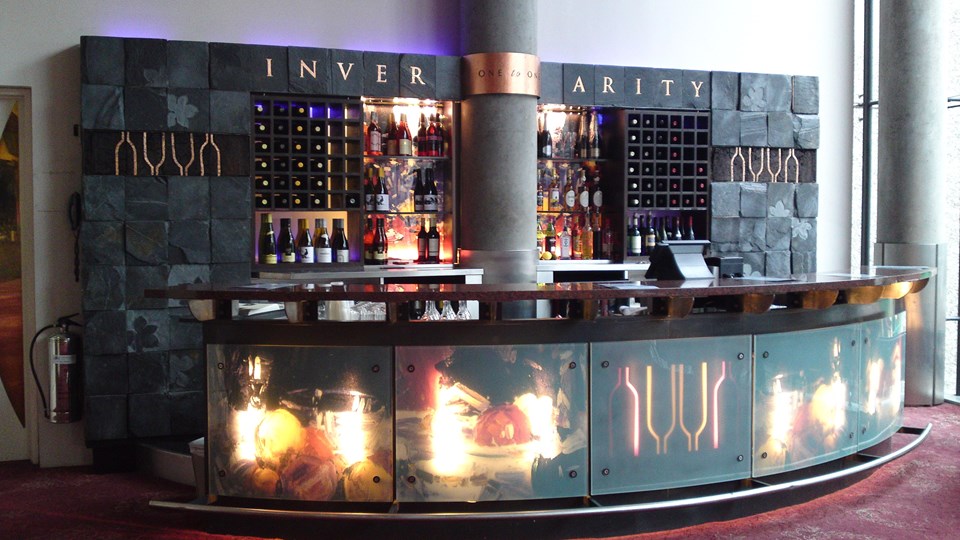 Stewart Brewing Bar
We are proud to be sponsored by local brewery, Stewart Brewing, who supply us with a wide range of delicious Stewart's beers for all three of our bars. Grab a beer and enjoy looking out to the magnificent views of Arthur's Seat and the Crags across Surgeons Hall.
The Stewart Brewing Bar is the closest bar to Level 3 and the Upper Circle, but it's often the quietest bar pre-show to enjoy the views and avoid the queues!