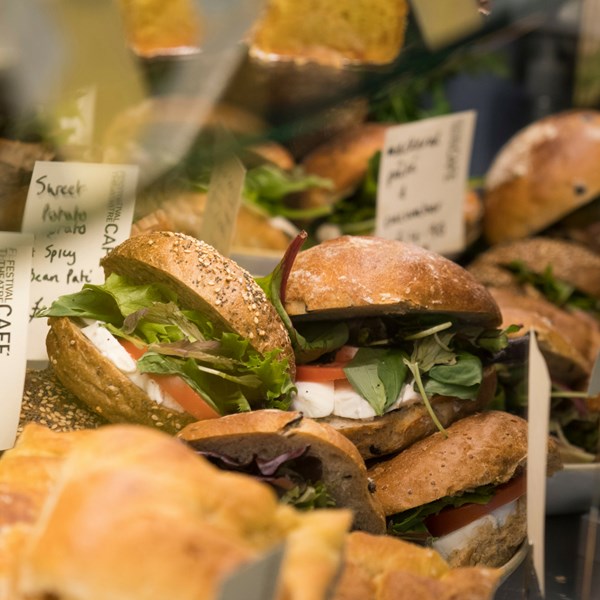 Whether you are looking for a healthy lunch or a guilty pleasure; a quick fizzy drink or a long relaxing cuppa; a place to enjoy the sunshine or watch the rain fall, the Festival Theatre Cafe is the place to be.
Pre-order your Drinks
With our Capital Theatres Bars App you can now pre-order and pre-pay for your pre-show and interval drinks anytime and from anywhere. Enjoying a visit to our venues is easy:
1. Download the app
2. Choose your venue
3. Choose the date and performance you are attending
4. Choose a collection slot
5. Place your order
6. Pick up your order on your visit to the theatre
Foyer Bars
The Festival Theatre is equipped with three bars located on two levels, all serving a selection of hot and cold drinks and a small selection of bar snacks. The bars open one hour before the performance starts. 
The Edinburgh Gin Bar
This bar is located on the first floor foyer and can service audience members sitting in all areas of the auditorium. This bar offers the full range of drinks available at the Festival Theatre.
The Wine Bar
This bar specialises in offering a varied and distinguished range of wines, champagne and whiskies, and is situated in the first floor foyer. For wine lovers, be sure to come by to see what we have to intrigue your palate.
​​Milburn Gallery
Located on level 2, you can enjoy a drink looking out to the magnificent views of Arthur's Seat and the Crags across Surgeons Hall.
Tip: The Milburn is the closest bar to the upper circle, but it's often the quietest bar pre-show to enjoy the views and avoid the queues.