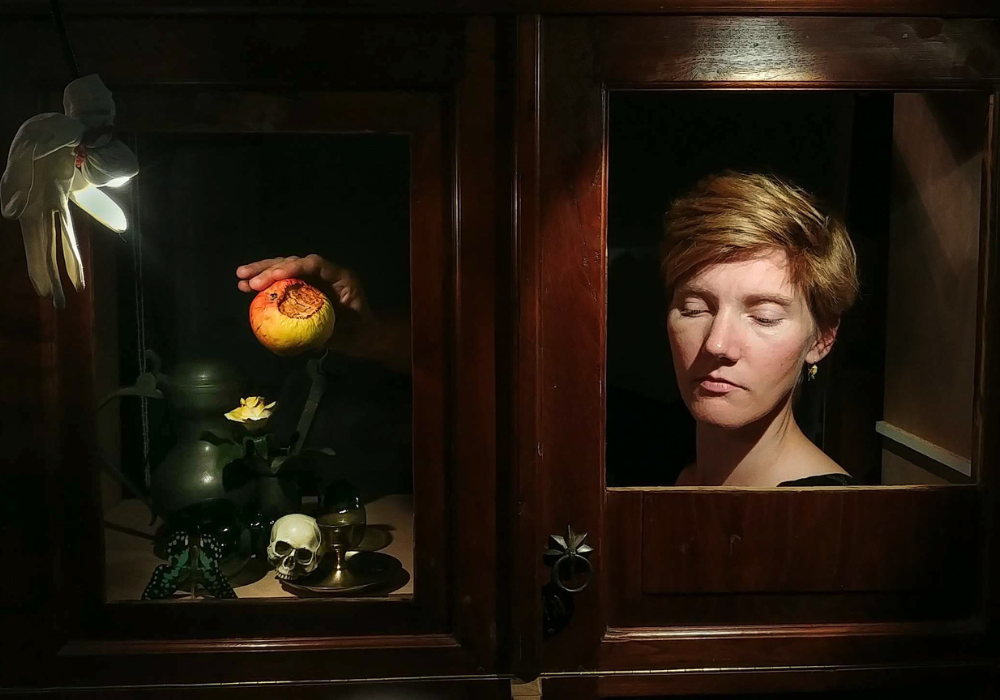 Manipulate: Poor Thing
Sat 11 Feb

2pm & 6pm
Running TIme: 60 mins
Age Guidance: 18+
The Studio
Box Office: 0131 529 6000
Ticket prices
From £15.00
* Ticket prices include a contribution to the Theatres Development Fund. A £1.50 handling charge will be added if you ask us to post your tickets.
Vox Muziektheater
Poor Thing
Experience a celebratory journey of life and mortality through music and storytelling in this UK premiere of Poor Thing from VOX Muziektheater.
When three musical funeral directors stumble upon a cabinet filled with the belongings of an anonymous deceased woman, they decide to follow her traces and try to reconstruct her forgotten life. 
As wistful 17th-century lute songs from John Dowland sound, the closet unfolds into a ceremony of still lifes. Lovingly and with a touch of humor, the funeral directors tell stories of times gone by.
VOX Muziektheater presents a performance full of soul-stirring songs and imaginative theatre about everyday relatable situations. Poor Thing is an ode to melancholy, and so it is an all-encompassing embrace of life.
VOX brings music from bygone eras back to contemporary life. Using classical song as a starting point, it creates visual music theatre performances using objects and puppets. With an equal dialogue between the two disciplines and the playful layering of music and images, VOX offers accessible performances that can reach and captivate a wide audience. 
With thanks to support from Culture, Education and Communications Department |Embassy of the Kingdom of the Netherlands.
Linde is a singer and visual artist who combines early music and enchanting theatre in fabulous ways, together with Martine and David.

Tobias Kokkelmans, dramaturg O. Festival for Opera. Music. Theatre. (Operadagen Rotterdam)
The atmosphere is in the details. When Linde strips off her eyelashes and make-up in a still life framed by the cabinet, the emotion cuts right to the bone.

Karel Van Ransbeeck, theatre group De Spiegel (Antwerp)
Credits
Concept: Linde Schinkel, Martine van Ditzhuyzen  
Soprano: Linde Schinkel, Lute: Punto Bawono   
Performance: Linde Schinkel, Martine van Ditzhuyzen, Punto Bawono  
Artistic coaching: Mirthe Dokter  
Final direction: Hans Thissen   
Set design: Tamar Stalenhoef  
Cupboard: Wout Rockx  
Poor Thing is made possible with the support of NORMA fonds, Gemeente Rotterdam, Prins Bernhard Cultuurfonds Zuid-Holland, Stichting RCOAK, Fonds Sluyterman van Loo, Elise Mathilde Fonds, Van Leeuwen van Lignac Stichting, Stichting Solidarodam en Van den Berch van Heemstede Stichting.   
Discounts
Concessions £2 off 
Concessions are limited and may be withdrawn at any time.
Discounts are available to people with disabilities. These cannot be booked online, please contact box office to buy your tickets. If you would like to book a wheelchair space or if you have any special requirements, please phone the box office who can advise. 
All discounts may be withdrawn at any time. 
Access
Capital Theatres aim to be accessible to all. We are committed to making your visit to our theatres as comfortable and enjoyable as possible. All of our Front of House staff undergo disability awareness training and Dementia Friend Training and will be pleased to assist you should you require any information or help.
Physical Theatre , Variety

Thu 9 February

Comedy , Dance , Dementia Friendly Activities , Drama , Family , Gig/concert , Music , Musical , Opera , Physical Theatre , Relaxed Performances , Screening , Spoken Word , Take Part Activities , Variety

Thu 2 March

Comedy , Dance , Dementia Friendly Activities , Drama , Family , Gig/concert , Music , Musical , Opera , Physical Theatre , Relaxed Performances , Screening , Spoken Word , Take Part Activities , Variety

Tue 11 to Sat 15 Apr 2023