Capital Theatres is proud to be dementia friendly. Find out more about the background to our dementia friendly work, plus what's on offer for people living with dementia, their family and friends.
Dementia-friendly performances
We are committed to creating a warm, welcoming and adapted environment that enables people to flourish, enjoy the arts and stay connected with the community around them.
Want to be kept up-to-date about all of our dementia friendly projects? Want to know more about our partners, attenders and staff? You can now download DementiArts, our dementia friendly newsletter. 
Spring 2021 Edition
Summer 2021 Edition
Autumn 2021 Edition
Winter 2022 Edition
Spring 2022 Edition
Tea and 'Jam'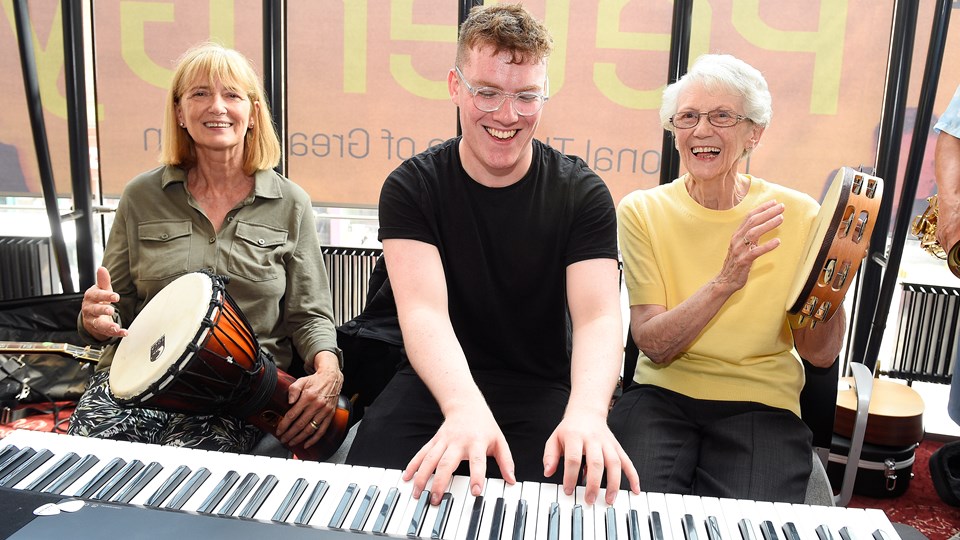 Join our celebration of music making on the last Friday of the month. Bring along your favourite instrument whether it's your flute, guitar, drum sticks or kazoo, we want to make music with you. Professional musician, Gus Harrower, will be with us to kick off the jam session but then it's very much over to you! We provide the refreshments, you create the music and together we enjoy friendship, a good sing-a-long and a dance or two!
Tickets cost £2 per person and carer comes along free. Limited car parking can be booked by calling Stage Door on 0131 662 1112.
Find more information about dates and how to book your space at one of our Tea and 'Jam' sessions. 
Tea parties with live music
Every month, we open up the Lafayette Bar at the Festival Theatre for a delightfully fun afternoon with tea, cake and live music. There is a different theme each time and entertainment by professional musicians to local community dance schools. It's a great chance for people to relax and enjoy their time together and whilst a sing along isn't compulsory it's certainly invited! Our warm and friendly staff look forward to welcoming you.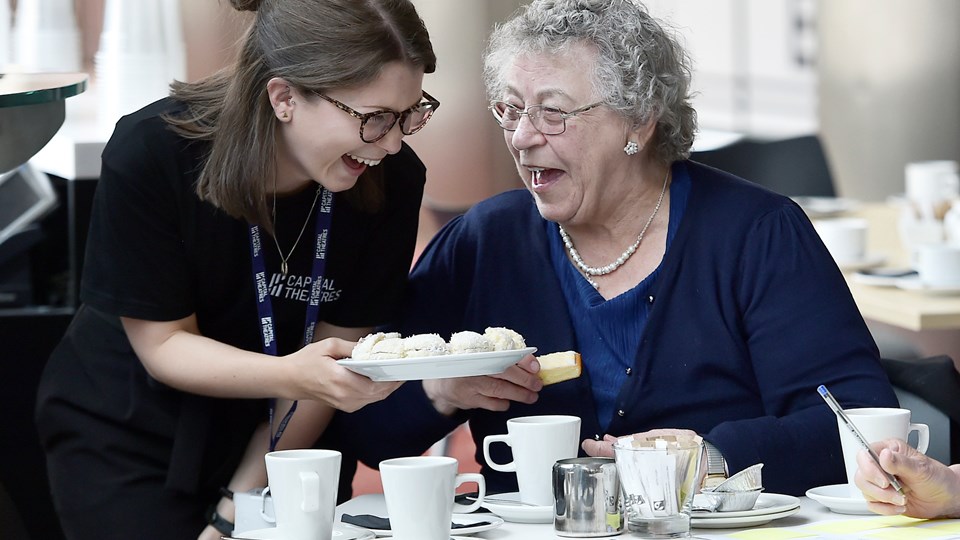 Tickets cost £2 per person and a carer comes along free. Limited car parking can be booked by calling Stage Door on 0131 662 1112.
You can book online, in person or by calling Box Office on 0131 529 6000. 
Drop-in Cafes
The drop-in café is an informal monthly gathering for anyone affected by dementia. Join us for tea, cake and a chat. We are also a Playlists for Life help point, so pop in and we can spend time with you creating 'The Soundtrack to your Life' if you like!
Wednesday 25 March: Are you bilingual? Know another language? Come and share some fun phrases with us….no swear words though!
From time to time, we also welcome visitors from other organisations who chat about their activities and ways they support people living with dementia, their families and supporters to live well.
The Festival Theatre Drop-In Café runs once a month. Find out specific dates and what organisations are coming along on our What's On section.

Capital Focus
Our first focus group of 2019 was a great success with 14 new members of the wider community joining us.
 
Tea, coffee and biscuits provided, travel costs can be reimbursed.
The history of our Dementia Friendly work
In 2015, staff at the Festival and King's Theatres noticed that people who had been avid friends of the theatres over many years had stopped attending performances and events. When we contacted them to say hello, we discovered a dementia diagnosis behind this change. Our friends no longer felt confident to visit us. At this point, we asked "what can we do as an organisation to enable people living with dementia to continue seeing performances, to remain an active and valued part of the theatre community?"
That same year, we applied for a three-year grant from the Life Changes Trust with the aim of creating and nurturing a dementia friendly community across our venues. Capital Theatres was successful and was awarded £321,000 over a three year period. This work has flourished, with an extensive dementia friendly buildings audit of the Festival Theatre and The Studio; dementia friends awareness sessions for all staff; creative artists training, and an extensive programme of dementia friendly performances and events in our venues and community settings. The project has worked with multiple stakeholders and partners to be able to deliver this vitally important work for people living with dementia. Over the course of the three years, we have programmed over 380 events and performances with over 7,830 participations.
We're delighted that the Life Changes Trust has awarded continuation funding for our dementia friendly community from 2018-20. As we embark on the next chapter of this work, the core strands of our programme are:
Opportunities for people living with dementia to access the performing arts as audience members;
Opportunities for people living with dementia to participate in the performing arts;
Training and advocacy, plus developing our volunteer programme & focus group.
We are also striving to promote positive engagement in our activities among diverse groups of people, including people who may not have a track record of engaging with culture and/or may face additional barriers to engaging with culture.
There are numerous resources around the city for those living with dementia and their families. For example, you can now check the Edinburgh Dementia Friendly Map to find out venues and cafes that establish themselves for those with dementia.