Thinking of joining us for our dementia friendly events?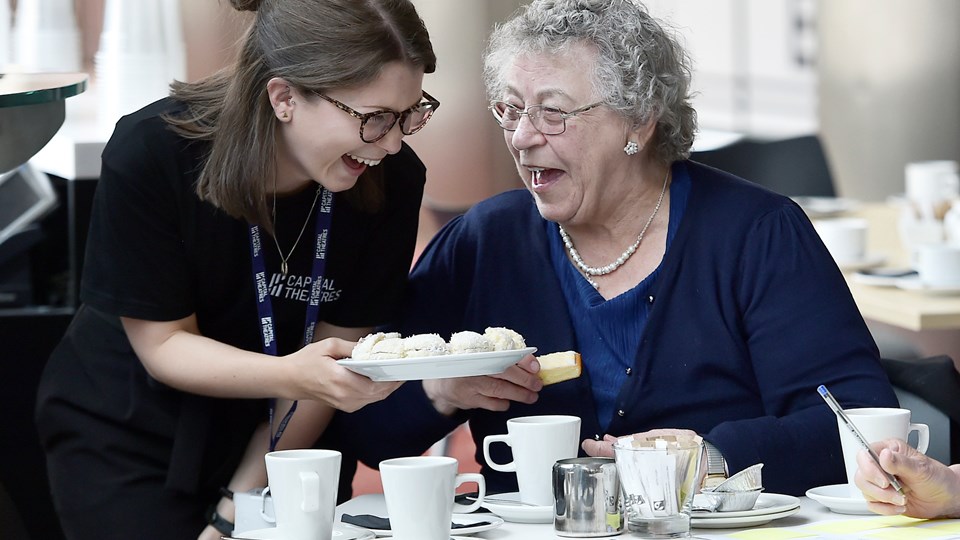 From themed Tea Parties and 'Jam' sessions to adapted performances and workshops, we have plenty for those living with dementia, their carers and loved ones.
We asked some participants to share with us what they think of some of our dementia friendly events at the Festival Theatre, and we hope it inspires more people to take part and enjoy the arts with us.
Tea Parties
"My brother sings along, and now to my surprise gets up to dance."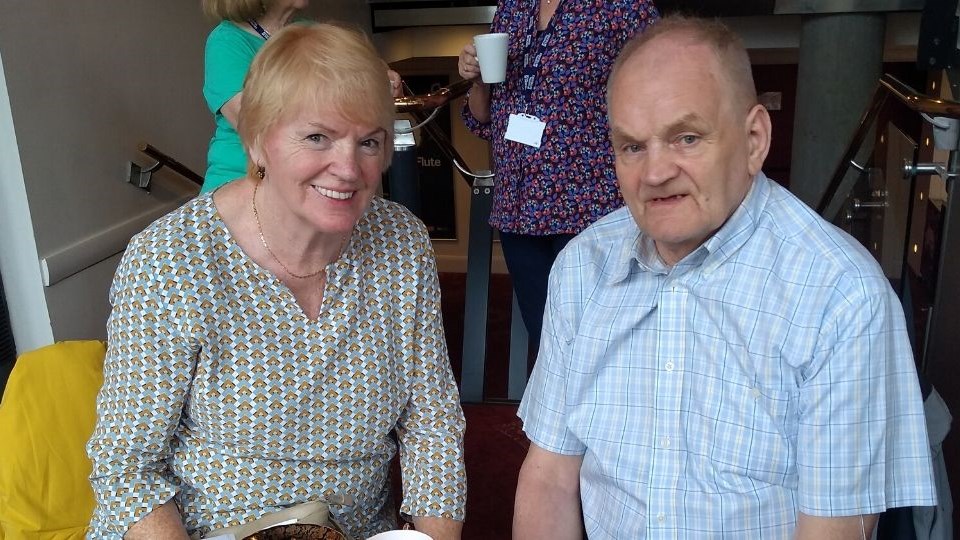 My brother and I attend the tea party once a month at the Festival Theatre, from the onset we were made very welcome, my brother sings along, and now to my surprise gets up to dance. We have a great time, Dawn provides a great variety of themed experience, much enjoyed by all, with little touches around the theme. The staff team are so enthusiastic, great fun. We look forward to every meeting.
-- Margaret and Brian
"The staff are terrific, everyone works very hard."
Two years ago, Maxine, the Tesco community staff member and I started a dementia group in Penicuik. My husband and I had been attending the Festival Theatre Tea Parties so we all decided to go as a group. Everyone enjoys this and the BBC Music Day party was very enjoyable, especially the performance by the Forget me Notes, Edinburgh local dementia inclusive choir. Dawn and the staff are terrific, everyone works very hard and we appreciate this.
-- Sandra and Jim
Tea & Jam Sessions
"We love the friendly atmosphere."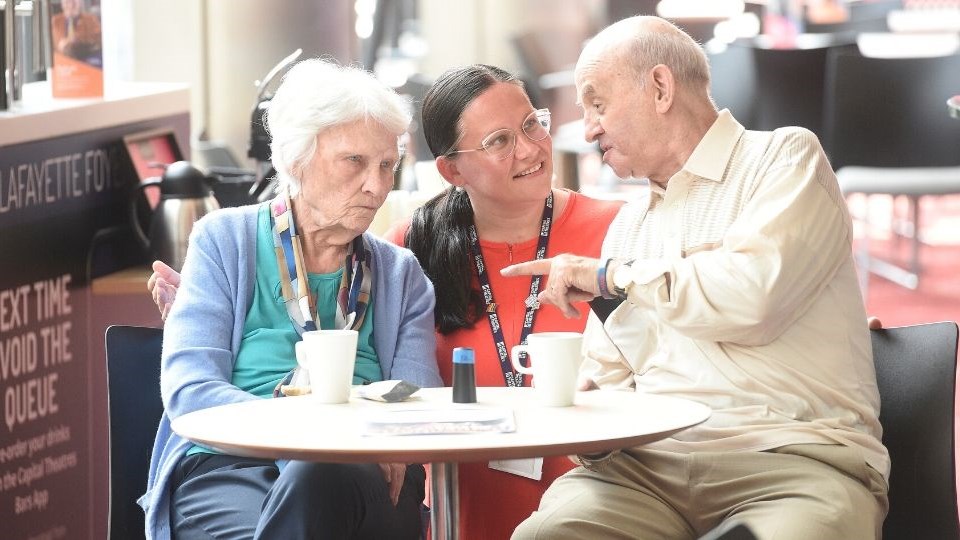 My wife Nelda and I are members of the Edinburgh Forget Me Notes choir and we were invited to sing at The Festival Theatre Tea Party. When we arrive, everyone we come in contact with makes us feel very welcome.
We look forward to being greeted by Dawn and the team, we love the singing and music. Most of all, we love the friendly atmosphere created when we can all participate, either in the dancing or just sitting at the table clapping, stamping our feet or playing the percussion instruments that help us to keep time. Some people bring their own personal instruments and it all adds to the fun in a joyful, happy group.
From two grateful members, we enjoy all that you do to add some fun into our lives. All we can say in words of old song: 'Thank you for the music and giving it to us'.
-- Jim and Nelda
Dementia Friendly Stage performance
"You are never too old for a new experience."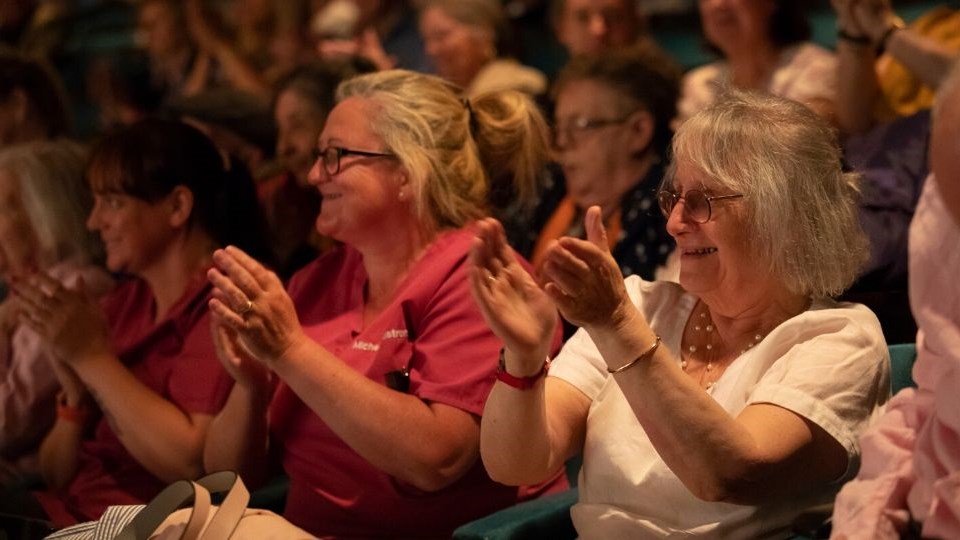 Mum and I thoroughly enjoyed our trip to the Magic Flute.
The day was wonderful. Being taken door to door and a chance to socialise before the show was a wonderful bonus. Having the story explained and then followed by a short excerpt was just the right level. Mum especially appreciated having the words overhead to complement the singing.
The staff were extremely helpful and at no time did I feel anyone was patronising. My mum is 94 and this was her first experience of opera. You are never too old for a new experience especially supported in this wonderful way.
As a carer it gave me the opportunity to go out and enjoy opera again.
-- Anne
 "A Grand Day Out"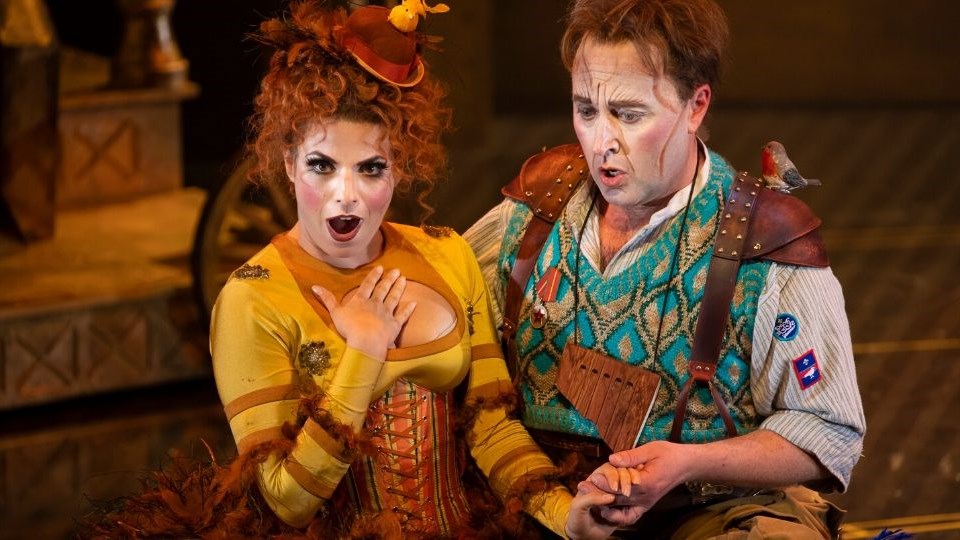 Our visit to the Festival Theatre to see the abridged version of 'The Magic Flute' had been arranged on our behalf. We were picked up by taxi and arrived at the theatre in ample time where a table for our eight had been reserved for tea, coffee and cake. We then took our seats in the stalls after a good blether and making new acquaintances and waited in anticipation for the event to begin. Alan, the Narrator introduced the performance and guided us through the scenes, at times humorous and others with more serious story telling.
The performance was absolutely perfect in every way, ideal for the targeted audience. Gold medal standard for the cast, who gave a most professional performance; the synchronisation of orchestra, stage actions and sound was second to none. A most enjoyable experience, one to remember.
Recalling the day, could there have been anything different which would have made the experience more enjoyable? The answer to that, from my point of view, is a definite no. It would appear that a great deal of thought and dedication went into the arrangement and all concerned deserve congratulating.
House staff also deserve a mention, as they could not have been kinder or more considerate and special thanks to Dawn for organising everything for us. I only have one question though, 'Where do Opera Singers get their voices from?' Wow!!!
-- George Masterton
Read more about our dementia friendly events, how to book and how to join DementiArts, our dementia friendly newsletter.