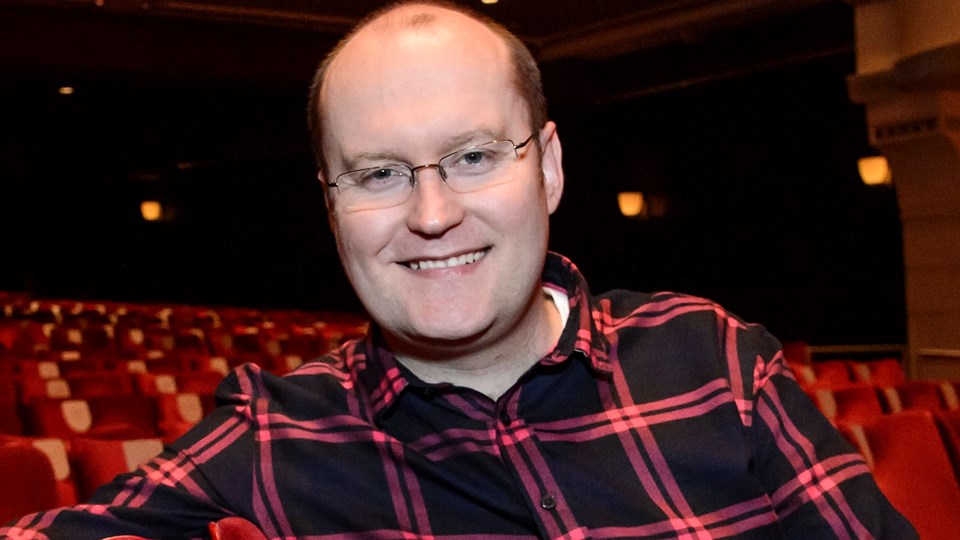 Producer of award-winning West End musicals including Gypsy, The Bodyguard and Annie, Michael Harrison is also managing director of Qdos Entertainment, the world's biggest pantomime producer. He's created over 100 pantomimes for Qdos and this year presents his fifth consecutive panto for the King's Theatre Edinburgh with director Ed Curtis.

'I was studying in Edinburgh when I saw the first ever pantomime Qdos produced at the King's Theatre [the 1998 production of Aladdin which starred Gerard Kelly, Allan Stewart, David Rintoul and Grant Stott]. I think I saw it about four times because I just loved the genre and I knew that Allan was someone very special. I could never have imagined that a number of years later, I would be producing the show and having a part in such a legendary theatre's history.
I think people from the rest of the UK look to Edinburgh and they look at that tradition of the King's pantomime, which is pretty extraordinary. It is one of the longest running pantomimes in the country, it is certainly one of the most popular and as somebody that travels around many, many shows – I have to say that the atmosphere at the King's is quite unlike anywhere else I've been. There's a connection and a love between the audience and the performers on stage that is pretty unique.
'I think there's a passion for the pantomime that comes from the crew at the King's and from Capital Theatres as a whole. It completely feels like it's a collaboration and I think the team are as passionate about what's on stage as we are, as Allan is, as Andy is, as Grant is. There's a real pride that goes from picking the title earlier in the year, it goes to press launches, the marketing campaign, to the wagons arriving at the dock door and unloading the set, it goes to the dressers and wardrobe team seeing what the costumes are going to be, seeing what Allan's going to be wearing. It just feels like a well-oiled machine that somehow you take people from all parts of the UK and you bring them together for a season at Christmas and it kind of works as one big family.
I quote Gerard Kelly when someone asks me what the secret is to making a great panto. Kelly once said to me 'Oh, it's really simple. Pantomime is a celebration of local culture' and I think that's sometimes true. Sometimes you know you have pantos that aren't specific to the cities they're in, but my goodness if there's ever an example of a pantomime where it's very specific to the city it takes place in, it has to be Edinburgh. Allan, Andy and Grant are so involved throughout the year in the creation of the script. It's not as if they get a script that's presented to them and they just turn up and perform it. It's so in their words and it really benefits from their knowledge. Talk about being topical, something can happen in Edinburgh that morning and it can be in the show that night and I know that the stars have taken great  joy in that over the years, as have the audiences. So yes, it's a celebration of local culture and it's that familiarity as well. It's a bit like old friends coming round at Christmas. The audience really respond to seeing them.'
Goldilocks and The Three Bears opens at the King's Theatre Edinburgh on Saturday 30 November 2019.