Capital Theatres: Annual Review 2019-21
We are pleased to publish the Annual Review for Capital Theatres.
It is a marker of just what an extraordinary 18 months it has been that, along with so many other aspects of our activity, the annual review simply didn't happen last year, so this year we offer you a bumper edition incorporating 2019/20 and 2020/21. The former was a year of business as usual before grinding to a halt on 16 March, while the latter has been a year unlike any other.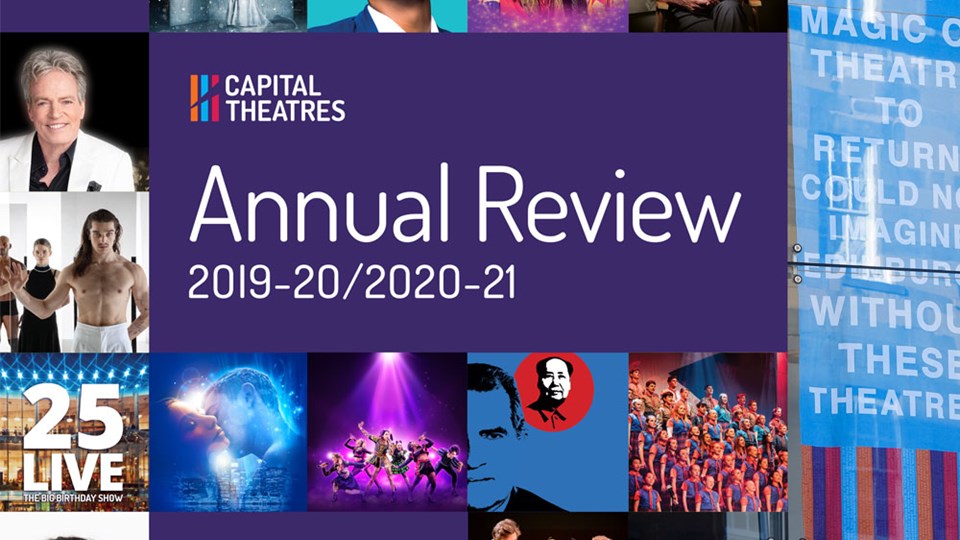 In 2019/20 we welcomed 432,241 people through the doors of our three venues; celebrated 25 years of the Festival Theatre, said goodbye to Chief Executive Duncan Hendry after 8 years of sound financial and artistic leadership, setting our organisation on a robust financial path and transforming Capital Theatres into a strong and influential artistic entity, well regarded not only in Edinburgh, but throughout Scotland and beyond.
In April 2020 our new CEO Fiona Gibson picked up where Duncan had left off but in an almost unrecognisable landscape thanks to COVID. As our income stream disappeared overnight and our buildings went dark, we fought hard and fought together throughout the year to look after our staff, our loyal audiences, our regular artists and our communities - and in turn, their generosity and commitment gave us huge strength.
This report recognises the incredible dedication and work of our staff here at Capital Theatres but also the wider Scottish theatre community, and our audiences across Scotland.