Honour, commemorate or celebrate a loved one by dedicating a seat at the Festival or King's Theatre.
Having made his name on the international theatre scene in Edinburgh, winning a Fringe First in 1980, Stephen dedicated his seat in 2014 when he visited the Festival Theatre on his book tour for the third installment of his autobiography More Fool Me: A Memoir.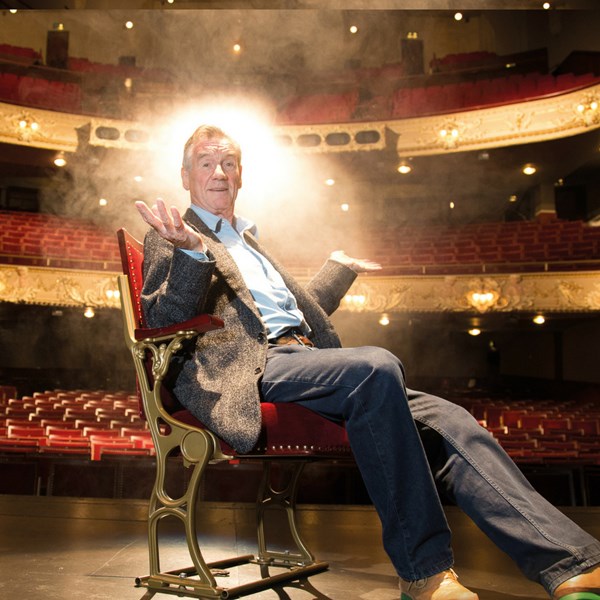 Michael Palin, much loved member of Monty Python and host of travel documentaries, visited the King's Theatre in 2014 whilst on his Travelling to Work book tour where we received his seat dedication
Scottish actress and comedian Elaine C Smith has performed on our stages throughout the years and during her most recent visit playing Susan Boyle in the I Dreamed a Dream received her seat dedication at the King's Theatre.
Dedicating a Seat
Join the ranks of Stephen Fry, Michael Palin and Bill Murray with a seat dedication, the perfect way to honour a loved one, commemorate a special occasion or give a thoughtful gift.
The Festival and King's Theatres are much-loved Edinburgh icons with of thousands of people sharing happy memories with family and friends in these historic theatres each year.
The King's, with its drama, variety, family shows and of course, the annual Pantomime, has been a part of city life since 1906, welcoming stars such as Sir Lawrence Olivier, Dame Margot Fonteyn, Sir Patrick Stewart, Juliette Binoche and Sir Ian McKellen.
The Festival Theatre sits on the longest continuous theatre site in Edinburgh. Since Ducrow's Circus opened in 1820 and some of the world's most iconic performers including Charlie Chaplin, Laurel and Hardy, Tommy Cooper and Pavarotti have performed here.
It's more than just a seat. It's memories of enjoyable evenings spent with family and friends. It's showing your support for one of Edinburgh's best-loved theatres.
For £300 (or £500 for a pair) you can dedicate a seat with a brass plaque engraved with a personalised inscription in either the King's Theatre or the Festival Theatre. Your money will go directly towards preserving and developing the beautiful theatres for future generations to enjoy.
Arrange your seat dedication by calling 0131 622 8087 or by emailing catriona.boyce@capitaltheatres.com
Help us to inspire a lifelong love of theatre in everyone.