The Gift wins 2023 CATs
Best Production for Children and Young People Award
The Gift has been presented with the award for best Production for Children and Young People at the 20th annual Critics' Awards for Theatre in Scotland. The awards ceremony which took place on Sunday 11th June at Traverse Theatre, saw Capital Theatres take home their first ever CATs award for the production.
Specially designed for children aged between 2 and 5 years old, The Gift is a story about how often, the wrapping paper, cardboard boxes and bubble wrap reveal playfulness, creativity and imagination - the true gift! The Festive show is bursting with energy, acrobatic dance, textures, sounds and colour to create a multi-sensory wonderland from the left-over boxes, ribbons and wrapping.
The Gift is a commission by Capital Theatres, Aberdeen Performing Arts and Eden Court, and a co-production between Barrowland Ballet and Capital Theatres for its 2022 presentation,
Natasha Gilmore, Artistic Director of Barrowland Ballet and creator of The Gift said: "It was such a privilege to sit in The studio at Capital theatre watching the Gift over Christmas with all these families enjoying going to the theatre together. A reminder of the joy of theatre and what a unique and memorable experience it is."
Fiona Gibson, CEO of Capital Theatres said: "It was an absolute privilege to witness the impact and joy The Gift brought to young audiences and their families in The Studio last Christmas and we are thrilled Barrowland Ballet and Natasha Gilmore's wonderful work has won a CATs award this year. Collaborating with Eden Court and Aberdeen Performing Arts for this commission has been a real pleasure and sits at the heart of our vision to support and develop Scottish talent.  This is of particular significance for Capital Theatres as The Gift marks the first time we've commissioned new work for young children in our studio as well as our first CATs award as a producer."
Ben Torrie, Director of Programming and Creative Arts of Aberdeen Performing Arts said: "It has been a real joy working with our friends at Capital Theatres and Eden Court on the joint commission, which has resulted in the creation of three fantastic productions. The innovative model makes the most of our collective resources, provides stability for venues and artists, as well as ensuring that more young audiences across Scotland get to experience top quality theatre. Everyone at Aberdeen Performing Arts is thrilled for Barrowland Ballet in receiving this much-deserved accolade, and we can't wait to welcome the awarding-winning production of The Gift to the Lemon Tree this Christmas."
Susannah Armitage, Eden Court Senior Producer said: "The Gift is a beautiful piece of festive dance theatre for children that had our young audiences transfixed. It was a joy to collaborate with the ever brilliant Natasha and Barrowland Ballet as part of our co-commissioning and co-producing partnership with Aberdeen Performing Arts and Capital Theatres."
Further info 
The Gift was co-produced by Capital Theatres and Barrowland Ballet in 2022 and co-commissioned by Aberdeen Performing Arts, Capital Theatres and Eden Court, Inverness funded through Creative Scotland's Performing Arts Recovery Fund in 2021.
The Gift featured as part of a special Festive commission which saw three of Scotland's largest cultural organisations joins forces to offer a unique, multi-year commission to create and produce three small-scale festive productions for early years audiences, each to be presented in Aberdeen, Edinburgh and Inverness between Christmas 2021 and Christmas 2023. 
In 2022, Barrowland Ballet and Capital Theatres also co-produced The Unexpected Gift, a highly interactive and inclusive dance-theatre show made especially for and with children with complex needs, inspired by The Gift.
Barrowland Ballet
Barrowland Ballet is one of Scotland's most exciting and successful contemporary dance companies built around the artistic work of choreographer Natasha Gilmore. The company produces high quality, accessible dance theatre performance, installation and film which are presented nationally and internationally. The work's themes are delivered with wit and humour, and the insightful observations of human behaviour are rooted in her personal stories.
Barrowland Ballet's work has gained critical international acclaim performing in festivals and venues across the world. Natasha Gilmore was the UK nomination for the ASSITEJ Award for Excellence 2017 for her work for young audiences including Little Red (7+), Whiteout (12+) Tiger Tale (7+) and Poggle (6 months – 4 years). The company also has a repertoire of intergenerational, short dance films including Loose Leaf Tea, Whiteout, Wolf, Strings and most recently Hoods Off created with and featuring pupils from partner school St Albert's Primary.
Barrowland Ballet has been recognised for its developing practice in contemporary dance work with and for neuro-diverse audiences and children with complex needs. Collaborating with pupils from Isobel Mair School, Newton Mearns, the company has now created two new sensory shows for young people with complex needs – Playful Tiger and most recently The Unexpected Gift, in partnership with Capital Theatre's, Edinburgh. Both shows have met with critical acclaim with Playful Tiger performing across the world, including Edinburgh's International Children's Festival; ASSITEJ Artistic Gathering, Norway; Baboro Festival, Ireland; and Takeoff Festival, England.
Capital Theatres
Capital Theatres presents world-class shows to entertain and inspire audiences of all ages.
Our three venues; Festival Theatre (1,915 seats), King's Theatre (1,300 seats) and The Studio (155 seats) host over 700 performances each year with a broad and inclusive programme featuring the very best in drama, dance, musical theatre, live music, comedy and pantomime.
In the last year alone we have staged a series of co-productions including James IV - Queen of the Fight, Sunshine on Leith and festive early years commissions, including, The Enormous Christmas Turnip, and The Gift and The Unexpected Gift with Barrowland Ballet, an inclusive piece for young people with complex needs. Our new artist development strand is being piloted called Open@The Studio.
Much of our programme is exclusive to our venues in Scotland, providing the only opportunity for audiences to see the biggest shows touring north of the border, the best in international contemporary dance and the latest productions from leading local and national companies.
We support access to the arts for everyone and have an extensive creative engagement programme of talks, workshops and events to introduce and develop engagement and interest in the heritage of our buildings and all areas of live performance.
We are a registered Scottish charity (SC018605) and our theatres and our programme are supported by the City of Edinburgh Council.
Aberdeen Performing Arts
Aberdeen Performing Arts is an arts charity based in the North-East of Scotland. We run three venues in Aberdeen - His Majesty's Theatre, the Music Hall and the Lemon Tree. We produce three festivals and have our own producing company, Freshly Squeezed Productions. We're a cultural hub for the North-East connecting with artists and communities. We welcome nearly 500,000 people to performances each year and 13,000 people take part in our creative engagement projects. We employ nearly 300 people and provide work for hundreds of artists and creative freelancers. We have been recognised locally and nationally for excellence in a variety of areas from programming and community engagement to environmental sustainability. In 2019 we were named the Business of the Year in the North-East.
www.aberdeenperformingarts.com
Eden Court
Eden Court is a registered charity and is the largest multi-arts venue in Scotland housing 2 theatres, 2 cinemas, 2 dance studios and conference and meeting spaces. It presents around 450 live performances and 2000 film screenings every year as well as almost 60 classes a week. This activity attracts an audience of over 300,000 people annually.
Eden Court runs an extensive creative learning and community engagement programme. As well as the building based programme of weekly classes, youth theatre and youth dance, Eden Court also works with schools across the region. It is the only theatre in Scotland to offer Scottish Qualifications Authority (SQA) courses in Drama and Dance and an AS Level in Moving Image Arts. These qualification courses are open to pupils from across the Highlands.
Eden Court is a registered charity and is grateful to receive regular funding from Creative Scotland and the Highland Council.          
 www.eden-court.co.uk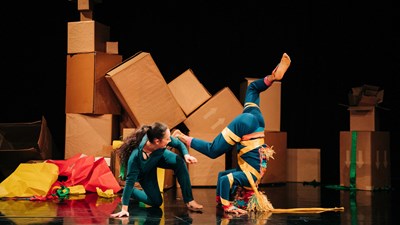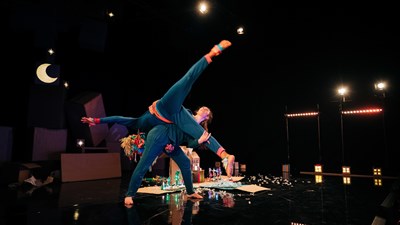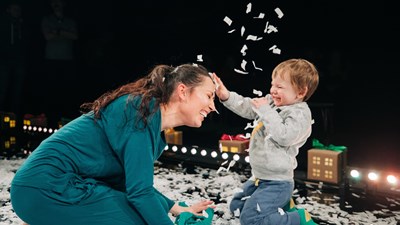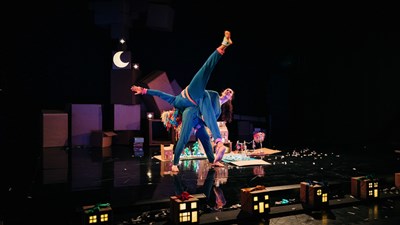 Join us for the next festive commission, Unicorn Christmas Party produced by Raw Material