Our all-new dementia-friendly podcast
Made possible with generous support from AgeScotland.
Episode 1
Published: January 2023
Welcome to the first episode of All The World's A Stage, the dementia-friendly podcast from Capital Theatres! In today's episode, Willy speaks to rock and roll-loving poet, lyricist, and occasional guitar maker Ian Laurence who tells us how music transformed his wife's experience of dementia.
Episode 2
Published: February 2023
Welcome to the second episode of All The World's A Stage, the new dementia-friendly podcast from Capital Theatres. In this episode, we team up with quickstep-loving Edith Donnelly who chats to Willy about stories, the Forget Me Notes choir, and why actors are allowed to make mistakes too...
Episode 3
Published: March 2023
Front of House manager Kim McKenna talks about her favourite shows, her iconic Mum, and how we make the friendliest theatre in Edinburgh accessible for a variety of disabilities. 
Episode 4 - Heritage
Published: April 2023
What happened when Pavarotti visited the Festival Theatre? Ever wonder what the secret scribblings say in the King's Theatre orchestra pit? And what on earth is a 'dooket'? With a theatrical family dating back to the 18th century, Sylvia Rose talks to Capital Theatres' Pablo Roberts about all things heritage, the ghosts that roam the Festival Theatre corridors, and why it's important to keep memories of past performances alive.
Episode 5 - Community Connections
Published: May 2023
In Festival Theatre lore, what's "Tracey Island"? Find out in Episode 5 of All The World's A Stage as host Willy Gilder is joined by our Head of Electrics, Graham Raith & Alan Midwinter from the Forget Me Notes Project, who discuss everything from Bovril to brass bands while musing on the role a magic box played in kickstarting a very special community relationship...
How our Podcast came to be...
It was in the midst of a particularly energetic Capital Theatres Tea & Jam session, part of our Dementia Friendly programme of events, that myself and a colleague discussed what a Capital Theatres podcast would sound like.
Made possible with support from AgeScotland.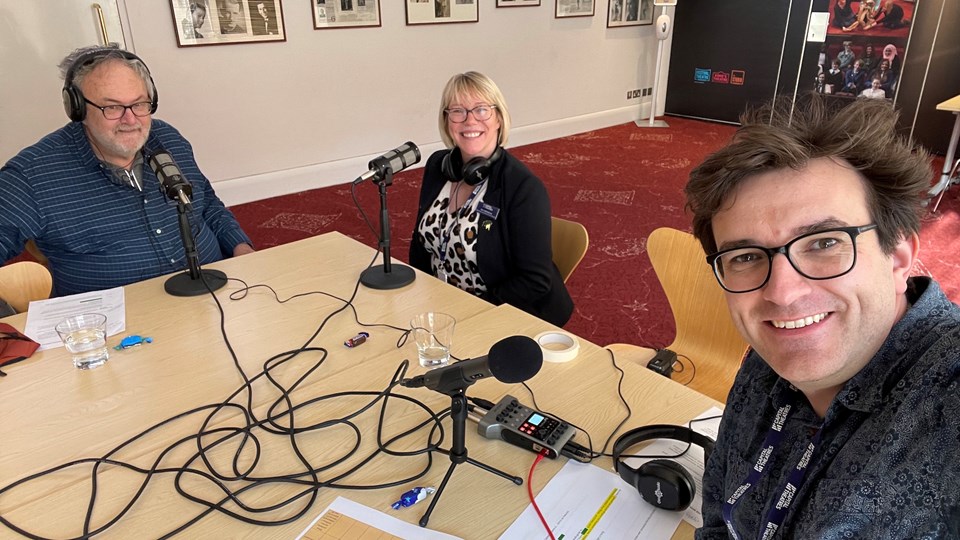 Quick as a flash Willy Gilder, who lives with dementia and is a regular face at our events, pulled up a chair. "This would do the job," intoned the former BBC presenter, showing me some baffling-looking kit on his tablet. "So long as you get people to speak close enough to the mic… do you have a sound-proof room here?"
Turns out we do have a sound-proofed room at the Festival Theatre... well sort of.
The Founders Room would become our studio, and within weeks, we had thrashed out a podcast format. We would dive behind the scenes of these great theatres, pairing people from the dementia community with representatives from its myriad departments of costume, technical, front of house… you name it. Stories would be shared; secrets would be revealed!
"It's a little hard for me to adequately explain how important the Capital Theatres projects were for me last year post-diagnosis," Willy had very generously said around this time. Once a journalist in Northampton, Mr Gilder has not let his diagnosis of Alzheimer's hinder his passion for art, conversation and activism.
A board member with Deepness Dementia Radio, an award-winning artist (Luminate) and now a university student, the problem would be finding a sliver of time in Mr Gilder's busy calendar. "What a perfect host, he'd be," my colleagues and I thought, in wistful unison. "Do you think he'd have the time? I suppose we can at least ask him…" And he accepted!
We now had a dementia-friendly podcast!
Huzzah! Not only that we had a staunch advocate for the dementia community in its driving seat. Our researcher was to be writer Ann Burnett whose determination to remain active following her husband's passing from dementia made her the ideal person to meet and recce with guests ahead of record dates.
Seeing Ann in the Festival Theatre café to talk about guests was exciting and buzzy. We felt like big wig radio thrashing out stories for an international news network. "A new chapter in my life has opened," Ann affirmed. "The podcast is giving me my life back… I am out and about and meeting loads of lovely, interesting people."
And I suppose that's the key ingredient of All The World's A Stage as it is in any broadcast...
People. People and their stories.
Willy took to the mic as you imagined any seasoned radio broadcaster would, putting guests at ease and, frankly, teaching me everything I now know about editing, producing and mixing. It is a podcast made by people living with dementia, for people living with dementia. But just like anything that holds the tenets of accessibility and diversity at its core, it is relevant and (hopefully!) engaging to everyone.
So sit back and enjoy. And if you're living with dementia and have a story to tell about theatre? Well, you know who to contact! Ann's email details are below.
Happy listening!