A poem to the King's Theatre
As many of you will be aware our world at Capital Theatres has been focused on ensuring that our beloved King's Theatre can undergo its essential redevelopment work to make sure that it can continue to entertain audiences for generations to come.
Following our latest update on the King's Theatre Capital Redevelopment here we have been absolutely floored by the care, passion, and support from audiences across Edinburgh and beyond, we would like to say a huge thank you to you all.
Our colleague Izzy Gray, a member of our Creative Engagement team and also a wonderful playwright and writer, has composed this beautiful poem to the King's - inspired by her own experiences at the theatre, one that echoes so many of our feelings here at Capital Theatres but also those of audience members and previous staff who have been in touch with their best wishes and support.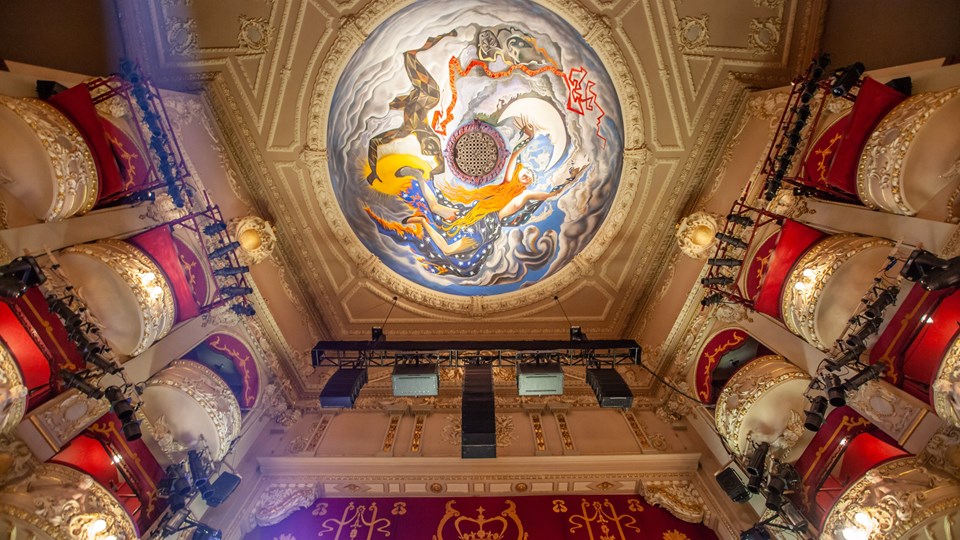 This poem came to me – of all places – in the car!
"It was August 2022 and I had just watched the final performance at the King's Theatre before she closed her doors for refurbishment. Gabriel Byrne's Walking With Ghosts – an actor's account of finding his path in life – felt like a fitting way to bow out.
There were more than a few damp eyes in the auditorium, which rather aptly broke into a sharing of Auld Lang Syne. Staff old and new linked arms, watching as the curtain fell for the last time. For many, it got us reflecting on just what made the King's such a special place.
The King's has always been so much more than bricks and mortar. We all have our own stories to tell, and Spell-Bind shares mine. Over the eight years I had spent working for Capital Theatres I had moved from a teacher in training to an independent theatre maker, continually inspired by the work which unfolded on the King's stage.
I was lucky enough to rehearse my first production under her rafters, but also just to call her a home. Under her painted dome, I met friends for life, colleagues whose talent knows no bounds, artists from around the world and even the man I'm now set to marry!
As the Autumn night closed in, I waited for my partner to finish his final shift and put pen to paper, hoping that somewhere woven through these stanzas, I could share just a little bit of the magic the King's has brought to people throughout the years."
Izzy Gray
Read by Izzy Gray, Photography by Anneleen Lindsay
Spell-bind
by Izzy Gray
It was Autumn when she took me in,
copper stones bathing in
the last of Summer's milky sun,
waiting for Winter's ink to drop.
A moment of calm between the throws
of August swells and festive shows.
Dappled by her chestnut glow
I take the cobbles to Stage Door
(wayward and twenty-four).
The thread I'd been weaving
now loose, I was leaving
a course that would have set in stone
a life which wasn't mine.
a tapestry undefined.
I wanted to write –
what, I didn't know,
but this theatre would be home
for now, or so.
And what a home she gave,
watching life upon her stage,
the smell of spell-bind and age.
Polished oak and alabaster stair,
boards first trod by Phyllis Dare.
Claret glass and marble floors
and dusty bellies down below
(places where only techies go).
This was here.
This was home.
Eight turns of seasons came around,
cycles of get-ins and get-outs.
cups of tea and sometimes bouts
of festival flu, no doubt!
But laughter too, which filled the hall
and trickled down from Gods to stalls,
working its way Front of House
into our chat, our loves,
our lives beyond those bronze-winged doors,
doors which have shown in so much more
than I could have known then,
fussing over ifs and whens.
When came, under her painted dome.
When came, found words unknown.
A script on page.
A script on stage.
Magic teased out under her rafters.
No more what-fors or what-afters.
She weaved a web that held me tight
and in the last of summer light
she smiles and whispers her goodnight.
Winter's shadow spreads.
Still, she glows copper red
even as dark begins.
It was Autumn when she took me in.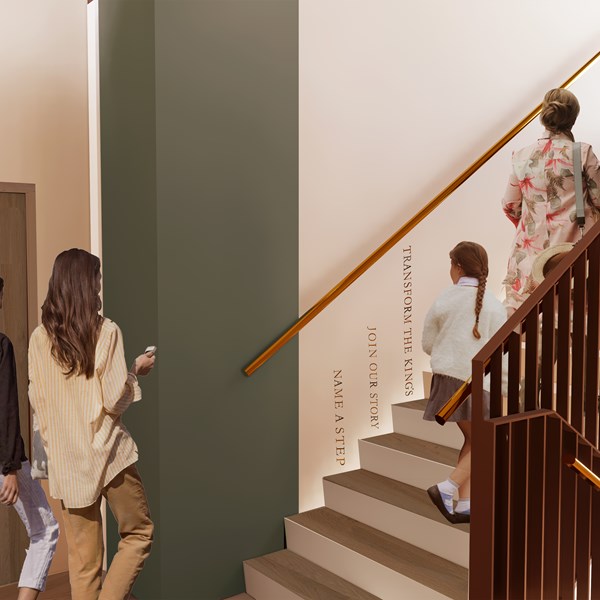 How can you help?
Read our FAQ's on how you can help the King's
Make a donation to the King's
A donation of any size adds up to help achieve extraordinary things, please donate today.