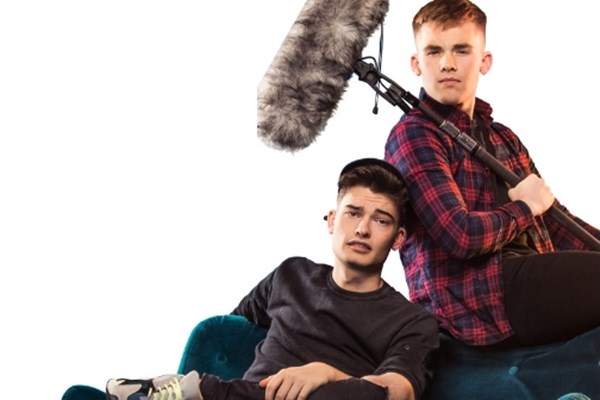 WillNE & Stephen Tries in This Week on the Internet Live
Running time (approx.): 1 hour 50 minutes
Age: Parental discretion advised (Mild language and innuendos)
Box Office: 0131 529 6000
* Ticket prices include a contribution to the Theatres Development Fund. An 80p handling charge will be added if you ask us to post your tickets.
Very Important WillNE and Stephen Tries Package is available for £30. See below for details.
WillNE & Stephen Tries in This Week on the Internet Live
For the first time ever, YouTube personalities and friends (sort of) WillNE and Stephen Tries are going on a tour of the UK. Comedians, commentators and piss-takers of the internet, sit back and enjoy a show from two of YouTube's funniest (looking) men. Between the two of them, Will and Stephen's videos have amassed more than 3 million subscribers and 355 million views making them two of the fastest growing channels in the UK.
So, come and see Stephen and Will live, watch them try to fill 90 minutes and ultimately have a massive laugh at one another's expense.
V.I.P Package 
- Meet and Greet opportunity with Will and Stephen.
- Exclusive gift from WillNE and Stephen Tries.
- Will and Stephen will be donating their proceeds from the VIP upgrade to mental health charity MIND.
- Parents accompanying ticket holders under the age of 14 do not have to buy a VIP ticket but they do need to be in possession of a valid show ticket.
- Space will be limited so only one accompanying adult will be able to join if required.
- Available to anyone to purchase whatever their seat tier price.
- The upgrade package is only available at the time of ticket purchase, it cannot be purchased later.
- Meet and Greets will take place between 3pm and 6pm additional VIP ticket
information to be released nearer the date.
- V.I. (W.A.S.T).P ticket holders and their plus one adult (if ticket holder is a child) will need to allow extra time time to reach the venue; it will not be possible to re-schedule to a later time or date if you are late.
Discounts are available to people with disabilities, please call box office to buy your tickets. If you would like to book a wheelchair space or if you have any special requirements please phone the box office who can advise. Our staff can be called on 0131 529 6000 or by using Text Relay on 18002 0131 529 6003.
Capital Theatres aim to be accessible to all. We are committed to making your visit to our theatres as comfortable and enjoyable as possible. All of our Front of House staff undergo disability awareness training and Dementia Friend Training and will be pleased to assist you should you require any information or help.