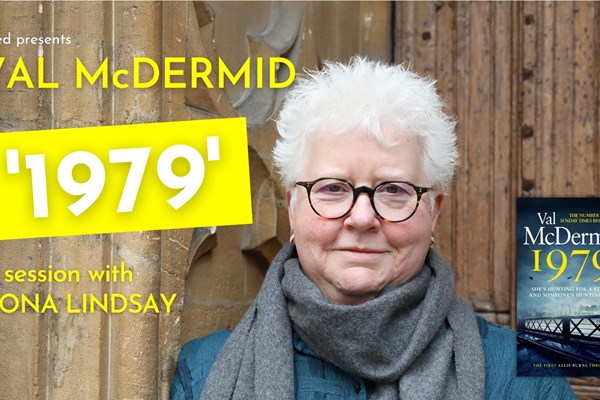 Box Office: 0131 529 6000
This is a Watch at Home screening
Tilted presents
Val McDermid '1979'
in session with Fiona Lindsay
Broadcast live from Newcastle Theatre Royal
The Queen of Crime Val McDermid joins Fiona Lindsay in session to discuss 1979, the unmissable first thriller in her electrifying brand-new series. An era-defining masterpiece, this atmospheric heart-pounding novel is Val McDermid's 35th novel and the start of her first new series in almost twenty years.
Offering an exclusive insight, Val will take Fiona on location to Glasgow, to the heart of the city which has provided the setting and a wealth of inspiration for 1979.  The live discussion will delve into what has moved Val to write her new series which introduces Allie Burns, an unforgettable protagonist, and she will read some of her favourite passages from the book aloud.  There will also be an opportunity to ask Val your questions about her incredible career, her creative processes, and her advice on what makes a truly gripping thriller.
One of today's most accomplished crime writers

Literary Review
McDermid remains unrivalled . . . Brilliant

Observer
Further evidence that her "Queen of Crime" status will not be challenged

Scotsman
There aren't many to touch her for insight into the minds of hunter and hunted

Susan Hill
Please note there are no discounts available.