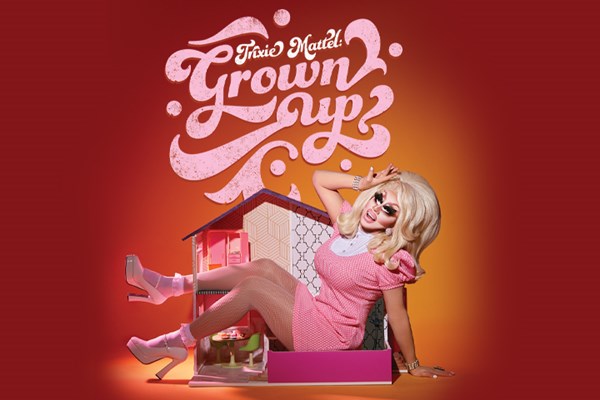 Box Office: 0131 529 6000
* Please note a £2 booking fee per ticket is added for this show. A £1 handling charge will be added if you ask us to post your tickets.
Wednesday 17 March 2021 10am
This show has been rescheduled from May 2021 to May 2022.
Trixie Mattel
Trixie Mattel is not only a major pop culture figure but a stand up comedian and musician with talents that defy classification. Trixie's coming to Edinburgh on tour with an exciting electro-folk reinvention. Expect to feel that you've landed in a PeeWee Herman video, with some surf rock and a love for 60's country music. She's listening to a lot of Fountains Of Wayne and Apples In Stereo, collecting mod Barbie dolls and watching Brady Brunch reruns!
Closure information: Our staff are currently working from home so we are not able to print and send tickets to you. If you select the option to have your tickets sent to you they will be sent out when we are able to safely return to the office. As an alternative, please consider using our print at home service.
Capital Theatres aim to be accessible to all. We are committed to making your visit to our theatres as comfortable and enjoyable as possible. All of our Front of House staff undergo disability awareness training and Dementia Friend Training and will be pleased to assist you should you require any information or help. 
Discounts are available to people with disabilities, please call box office to buy your tickets. If you would like to book a wheelchair space or if you have any special requirements, please phone the box office who can advise. Our staff can be called on 0131 529 6000, by using Text Relay on 18002 0131 529 6003, or emailed at bookings@capitaltheatres.com.
From Monday 28 June 2021, the Box Office phones will be open Mon-Fri, 11-3pm.