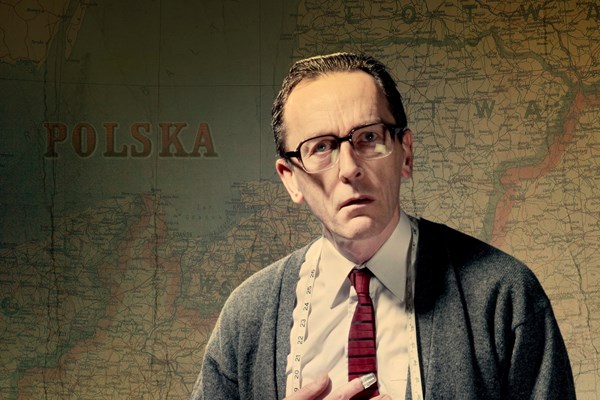 Box Office: 0131 529 6000
* Ticket prices include a contribution to the Theatres Development Fund. An 80p handling charge will be added if you ask us to post your tickets.
Dogstar Theatre
The Tailor of Inverness
Inspired by the life of Matthew Zajac's father, The Tailor of Inverness is a story of the impact of war on ordinary people and families, a story of a boy who grew up on a farm in Galicia (Eastern Poland, now Western Ukraine) and became a tailor in Inverness, of how a life and an identity can be reconstructed.  The tailor's life spanned most of the 20th century, and the journey he took was made by thousands of Poles during the Second World War. His was a forced migration, subject to the brutal vagaries of war. Before settling in Scotland, he travelled and fought throughout Europe, the Soviet Union, the Middle East and England. In a new country, he became a new man and integrated himself into the fabric of life in the Scottish Highlands. This is the story he told.
But there is another story, and perhaps a third and a fourth one, for in order to survive, he had to adopt different identities. Like all immigrants, the tailor had to adapt and he did that very successfully.  He made clothes for thousands of people, including his son, constructing the outward trappings which play a part in defining who we are. This man's story is not straightforward. He was one of millions whose fate was determined by massive upheavals over which he had no control. But was he really who he said he was?
Crossing the borders from Ukraine to Poland to Russia to Iran to Egypt to Italy to Germany to Scotland, this extraordinary production tells the story of the tailor's life and his son's discoveries about his father through music, poetry, theatrical imagery, storytelling, moving and still video projections, costume and choreography.  Audio and video material made on a series of research trips in Poland and Ukraine is incorporated into a detailed overall design. Live violin weaves its way evocatively through the piece, with traditional and original songs and tunes from Scotland, Poland and Russia.
Winner of the Critics' Awards for Theatre in Scotland (Best Actor), Scotsman Fringe First and Stage Award for Best Solo Performer
A beautifully realised tale of the reality of survival in war-torn Eastern Europe...Matthew Zajac's moving performance is a triumph of evocative staging and storytelling

The Observer
A must...Zajac is truly a visionary

Broadway World
An ardent, deeply personal play…impassioned, compelling…a fine actor

New York Times
A brave biographical piece...that has succeeded in turning a deeply personal family story into universal work of theatre

Sunday Herald
Capital Theatres aim to be accessible to all. We are committed to making your visit to our theatres as comfortable and enjoyable as possible. All of our Front of House staff undergo disability awareness training and Dementia Friend Training and will be pleased to assist you should you require any information or help. 
Friends 20% off
Students and over 65s £2 off 
Discounts are available to people with disabilities, please call box office to buy your tickets. If you would like to book a wheelchair space or if you have any special requirements please phone the box office who can advise. Our staff can be called on 0131 529 6000 or by using Text Relay on 18002 0131 529 6003.