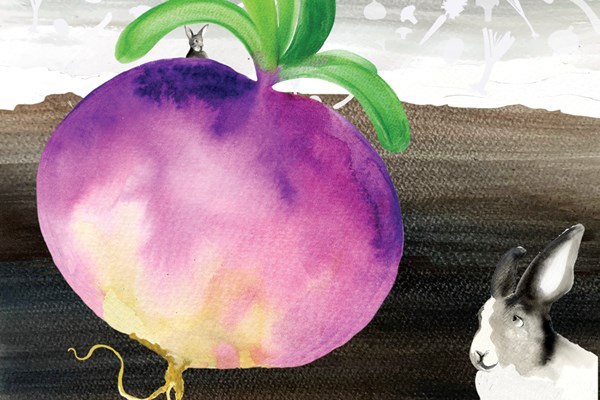 The Enormous Christmas Turnip
Fri 17 Dec to Fri 31 Dec 2021
Performances at 11am, 1.30pm, 3pm | Twilight performances, 6pm on 17 & 18 December
Box Office: 0131 529 6000
* Ticket prices include a contribution to the Theatres Development Fund. A £1 handling charge will be added if you ask us to post your tickets.
The Enormous Christmas Turnip
Presented by Capital Theatres and Scottish Theatre Producers
Help two playful bunnies get ready, set, and grow grow grow - but what happens when one vegetable grows a little too big…?
Rabbits get a bad rap. Everyone thinks they steal your carrots and poo everywhere.
Well, these rabbits are growing their own delicious vegetables for a great big festive feast and there'll be plenty for everyone! That'll be a turn-ip for the books.
Join us for a magical, musical rollercoaster of a Christmas dinner party like no other!

Twilight Performances on 17 & 18 December, 6pm!
Join us for two very special performances, come along in your PJs and enjoy a warm mug of hot chocolate while watching the show. The perfect bedtime story.
Credits
Created and performed by Ivor MacAskill and Rosana Cade
Designed by Ailie Cohen
Dramaturgy and direction by Fiona Manson
Produced by Scottish Theatre Producers
Lighting Designer Andy Gannon 
Sound Designer Yas Clarke 
Capital Theatres aim to be accessible to all. We are committed to making your visit to our theatres as comfortable and enjoyable as possible. All of our Front of House staff undergo disability awareness training and Dementia Friend Training and will be pleased to assist you should you require any information or help. 
Friends 20% off
Children £2 off
Limited Babes in Arms, please call Box Office to book.
Discounts are available to people with disabilities, please call box office to buy your tickets. If you would like to book a wheelchair space or if you have any special requirements, please phone the box office who can advise. Our staff can be called on 0131 529 6000, by using Text Relay on 18002 0131 529 6003, or emailed at bookings@capitaltheatres.com.
From Monday 28 June 2021, the Box Office phones will be open Mon-Fri, 11-3pm.