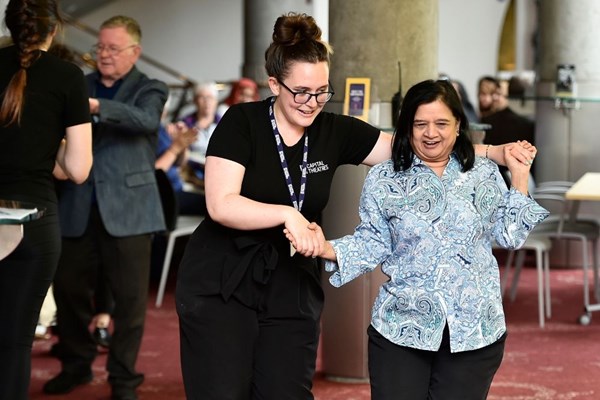 Dementia Friendly Tea Party
Mon 17 Feb & Mon 16 Mar 2020
Monthly gatherings. See dates below.
Box Office: 0131 529 6000
£2 per person. Carer comes along free*
*Limited car parking can be booked in advance by calling Stage Door on 0131 662 1112
Our delightfully fun dementia friendly tea parties are all individually themed. See below for a full list of our themes.
Dementia friendly Tea Parties
Every month, we open up the Lafayette Bar at the Festival Theatre for a delightfully fun afternoon with tea, cake and live music. There is a different theme each time and entertainment by professional musicians to local community dance schools. It's a great chance for people to relax and enjoy their time together and whilst a sing along isn't compulsory it's certainly invited! Our warm and friendly staff look forward to welcoming you.
Monday 20 January: New Year…same fantastic tea parties! Newbattle High School Big Band plays a range of well-known music from across the decades: from Elvis to Louis Armstrong to the Musicals, there's something for everyone to enjoy.
Monday 17 February: Just after St. Valentine's Day but we're still full of the love here. Join our very own Capital Theatres House Band with their energetic style, and let's sing and dance the afternoon away.
Monday 16 March: No St. Patrick's Day celebration would be complete without Danny Boy, and a host of other Irish favourites, performed by Laura McFall and Kristine Donnan, the voice and piano duo Voice and Verse from Northern Ireland.
That was a 10/10 tea party. A model for other dementia friendly events of how to do it right!

Carer from North Edinburgh Dementia Care
It was very emotional to see my mum genuinely enjoying herself

Tea Party participant
Everyone had an absolute ball. Lots of thought and effort on your part – and they loved it

Head Teacher, Newbattle High School
Music excellent and a good variety and value – everyone looks forward to it

Maxine Regan, Tesco Community Champion
Capital Theatres aim to be accessible to all. We are committed to making your visit to our theatres as comfortable and enjoyable as possible. All of our Front of House staff undergo disability awareness training and Dementia Friend Training and will be pleased to assist you should you require any information or help.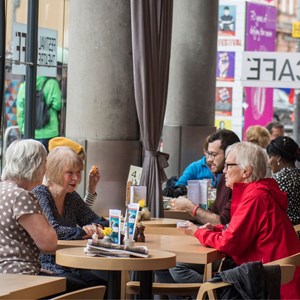 Wed 26 Feb & Wed 25 Mar 2020