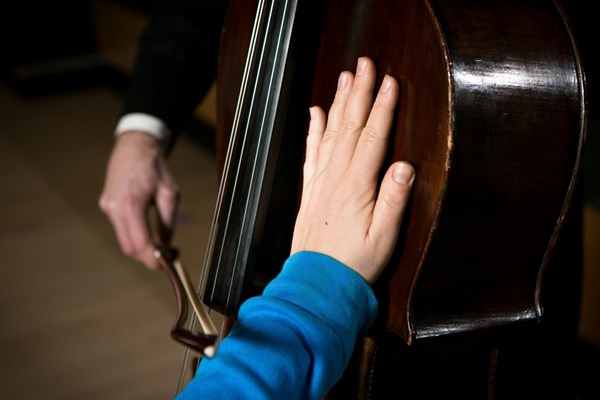 Fri 3 May, 3pm; Sat 4 & Mon 6,11 am & 2 pm; Tue 7, 10.30am & 1.30pm
Box Office: 0131 529 6000
* Please note there is up 2 free tickets with each paid ticket. Ticket prices include a contribution to the Theatres Development Fund. An 80p handling charge will be added if you ask us to post your tickets.
Please note there is up 2 free tickets with each paid ticket. Not bookable online, please call Box Office on 0131 529 6000.
Sound Symphony
Sound Symphony is a highly interactive, sensory performance made specially for young audiences with profound autism by Ellie Griffiths, presented by Independent Arts Projects in association with Capital Theatres. 
The show celebrates making music your own way by weaving together live classical instruments, singing and a wide range of weird and wonderful sounds. Sound Symphony provides a sensory-rich environment, where the audience can feel the music through their whole body. 
This performance is responsive to each audience member, allowing them to become co-composers in their own symphony of sounds.
This show is perfect for those who might struggle to sit still and quietly at a standard theatre performance. Please contact the company if you have any questions or concerns about your child attending, as we will aim to accommodate a variety of access needs.
Email: ss@independentartsprojects.com
Telephone: 0131 510 9427
Capital Theatres aim to be accessible to all. We are committed to making your visit to our theatres as comfortable and enjoyable as possible. All of our Front of House staff undergo disability awareness training and Dementia Friend Training and will be pleased to assist you should you require any information or help. 
Carers Up to two free tickets with each paid ticket 
Discounts are available to people with disabilities, please call box office to buy your tickets. If you would like to book a wheelchair space or if you have any special requirements please phone the box office who can advise. Our staff can be called on 0131 529 6000 or by using Text Relay on 18002 0131 529 6003.