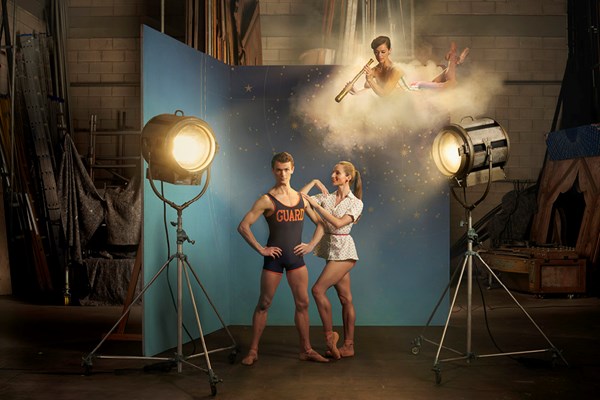 Scottish Ballet's Starstruck
Thu 14 Oct to Sat 16 Oct 2021
Evenings 7.30pm | Saturday Matinee 2.30pm
Running time (approx.): 1 hour
Box Office: 0131 529 6000
* Ticket prices include a contribution to the Theatres Development Fund. A £1 handling charge will be added if you ask us to post your tickets.
Scottish Ballet: Starstruck
Gene Kelly's Love Letter to Ballet
Escape with us to the glamour and grace of Paris, 1960. Step into the studio, watch the dancers warm up and hear the piano start to play – a new show is taking shape that will be fit for the gods.
One of the first choreographers to bring the 'American style' to Europe, the legendary Gene Kelly was invited to create an original work for the Paris Opera Ballet in 1960.  Dancing the lead role of Aphrodite was the 'Étoile' of Paris, Claude Bessy, who had worked with Kelly in Hollywood and encouraged him across the Atlantic.  His jazzy, joyful Pas de Dieux was highly acclaimed at the time as 'a breath of fresh air' and has now been given a new set of wings for its UK premiere.
In collaboration with Kelly's widow, Patricia Ward Kelly, Scottish Ballet's CEO/Artistic Director Christopher Hampson and designer Lez Brotherston (The Snow Queen, The Secret Theatre) have lovingly revived the original ballet and added a delightful new twist. You'll be transported into the world where jazz meets ballet, and the stars align.
Gene Kelly's pioneering choreography and much-loved style influenced a generation of dance-makers, and we honour his creative legacy with this playful new production. 
The performance is set to Gershwin's effortlessly cool Concerto in F, with extracts from Chopin, recorded by the Scottish Ballet Orchestra. We promise, Starstruck is exactly the evening of entertainment you've been longing for.
The running time for Scottish Ballet's Starstruck is one hour, with no interval.
Please Note: If you choose to have your tickets posted, this will take longer than normal and may take a few weeks. As an alternative, please consider using e-tickets, or printing your tickets at home.
Friends 20% off
Groups (8+) £6 off Stalls and Dress Please note groups cannot be booked online. If you wish to book a Group, please contact our dedicated Groups email, groups@capitaltheatres.com
Concessions £3 off. Concessions are limited and may be withdrawn at any time.
Students/Under 26s £10 tickets. Subject to availability and with a valid ID.
Dance Schools/School Groups £10, 1 adult free with every 10 children. Please contact the Box Office Groups Department at groups@capitaltheatres.com or 0131 529 6005 to book.
Discounts are available to people with disabilities, please call box office to buy your tickets. If you would like to book a wheelchair space or if you have any special requirements, please phone the box office who can advise. Our staff can be called on 0131 529 6000, by using Text Relay on 18002 0131 529 6003, or emailed at bookings@capitaltheatres.com.
From Monday 28 June 2021, the Box Office phones will be open Mon-Fri, 11-3pm.
All discounts may be withdrawn at any time. 
Capital Theatres aim to be accessible to all. We are committed to making your visit to our theatres as comfortable and enjoyable as possible. All of our Front of House staff undergo disability awareness training and Dementia Friend Training and will be pleased to assist you should you require any information or help.