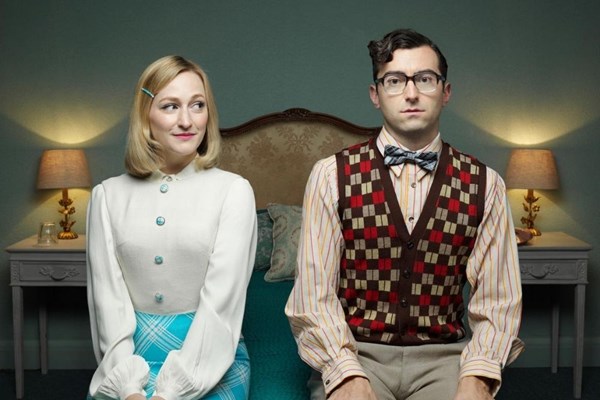 Romantics Anonymous - WATCH AT HOME SCREENING
Running time (approx.): 2 hours 15 minutes
Box Office: 0131 529 6000
Romantics Anonymous
Live streamed direct from Bristol Old Vic
Add a few ingredients
Bold and brave and new
Don't you love how chocolate is so unlike you?
Angélique is a gifted chocolate maker crippled by social anxiety and Jean-René is the boss of a failing chocolate factory. Angélique is so timid, she faints when people look at her; Jean-René so awkward he relies on self-help tapes and is prone to embarrassing sweating. When Angélique takes a job in Jean-René's struggling factory, a fragile love affair unfolds. 
 
Funny, tender and painfully awkward, Romantics Anonymous is a delicious love story about breaking the mould and finding the courage to be happy.
Directed by Emma Rice (Malory Towers, Wise Children, Tristan & Yseult), this beautiful new musical was meant to be on a tour of USA before the pandemic struck. We're now delighted to be able to bring it back, with this fully staged live stream coming direct from Bristol Old Vic to audiences at home, in all its glory!
As an official partner, Capital Theatres will receive a percentage of ticket sales. Please note tickets are sold through Wise Children's official website.
★★★★★
The feel-good factor is through the roof; you really will leave the theatre 'dancing on air' and beaming from ear to ear

Broadway World
★★★★
A multifaceted gem, chock-full of love, generosity and joy

The Guardian
★★★★
A sweetly funny, gorgeously tender musical rom-com

London Times
★★★★
An intimate, delectably joyous mix of the silly and the stirring

The Independent
The world premiere of Romantics Anonymous was originally produced by Shakespeare's Globe for the Sam Wanamaker Playhouse by special arrangement with Radio Mouse Entertainment.
Wise Children, Bristol Old Vic & Plush Theatricals present Romantics Anonymous. Directed by Emma Rice.
Book by Emma Rice, Lyrics by Christopher Dimond, Music by Michael Kooman.
Based on the film Les Émotifs Anonymes written by Jean-Pierre Améris and Philippe Blasband.
Please note there are no discounts available.