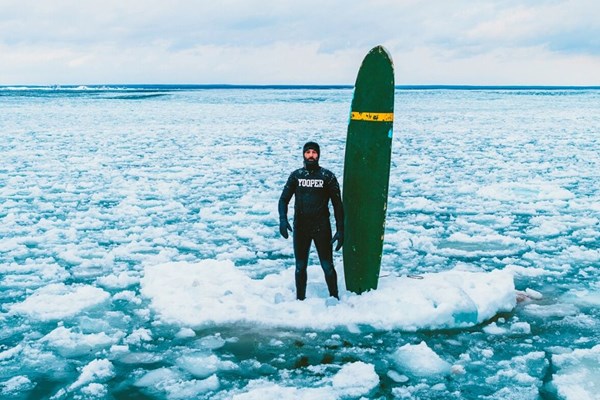 Box Office: 0131 529 6000
* Ticket prices include a contribution to the Theatres Development Fund. A £1 handling charge will be added if you ask us to post your tickets.
Ocean Film Festival
Rescheduled to Fri 3 September 2021
Dive into a night of mesmerising ocean adventure! The Ocean Film Festival World Tour is back with a brand-new collection of the world's most incredible ocean films!
Brought to you by the team behind the Banff Mountain Film Festival UK & Ireland Tour, this carefully curated selection of short films combines epic human endeavour and astounding marine life in a spectacular cinematic celebration of our oceans.
Meet surfers, paddlers, divers and oceanographers who have dedicated their lives to answering the call of the ocean in the wildest corners of the planet. Witness incredible seafaring voyages, captivating footage from both above and below the surface, and the chance to dip your toes into the wonders of the big blue – from the comfort of a cinema seat!
Double - or triple - your adventure!
Banff Mountain Film Festival returns to the Festival Theatre Wed 1 & Sat 2 September - book for one or both screenings at the same time as booking Ocean Film Festival to get £2 off each ticket. Put Banff and Ocean tickets in your basket and discount will be applied at checkout.
Select Ocean Film Festival seats and add to Basket

Change "Full-price tickets" to "0" and either "2-show" or "3-show saver" to the number of seats

Click "Next", then scroll down and click "Continue Shopping"


Select Banff Film Festival and repeat the process
Capital Theatres aim to be accessible to all. We are committed to making your visit to our theatres as comfortable and enjoyable as possible. All of our Front of House staff undergo disability awareness training and Dementia Friend Training and will be pleased to assist you should you require any information or help. 
Banff Mountain Film Festival £2 off each ticket when you book for Banff Mountain Film Festival at the same time as Ocean Film Festival. Add one or both Banff screenings to your basket and discount will be applied at checkout.
Select Ocean Film Festival seats and add to Basket

Change "Full-price tickets" to "0" and either "2-show" or "3-show saver" to the number of seats

Click "Next", then scroll down and click "Continue Shopping"


Select Banff Film Festival and repeat the process
Groups (8+) £2 off (Stalls and Dress only) Please note groups cannot be booked online. If you wish to book a Group, please contact our dedicated Groups email, groups@capitaltheatres.com
Concessions £1.50 off. Concessions are limited and may be withdrawn at any time
Discounts are available to people with disabilities, please call box office to buy your tickets. If you would like to book a wheelchair space or if you have any special requirements, please phone the box office who can advise. Our staff can be called on 0131 529 6000, by using Text Relay on 18002 0131 529 6003, or emailed at bookings@capitaltheatres.com.
From Monday 28 June 2021, the Box Office phones will be open Mon-Fri, 11-3pm.
All discounts may be withdrawn at any time. 
FROM KURILS WITH LOVE
24 minutes
Filmmaker: Taylor Rees
A scrappy Russian marine biologist called Vladimir stows away on a boat filled with adventure junkies (and a world-renowned cybersecurity expert) to reach one of the last paradises on Earth – the volcanic Kuril Islands, between Russia and Japan. From this dramatically beautiful and inaccessible chain of islands, From Kurils With Love introduces us to a true warrior for the planet on an intimate journey of visual bliss… and sea lion chaos.
CHANGING TIDES
17 minutes
Filmmakers: Akemi Walsh And Anna Thorsen
2,000km, 3 months, 2 kayaks – and zero single-use plastic. With giant icebergs, abundant wildlife and serious arm-power, university friends Lucy and Mathilde tackle an ambitious kayaking trip along the Inside Passage, down the coast of Alaska and Canada. With all of their 500 meals stored in paper, Changing Tides joins the intrepid duo on a journey of adventure, challenge, friendship and a deep love of the world's oceans. 
MATADOR
3 minutes
Filmmaker: Aether Films
Skimboarding is a sport that starts and ends on the beach, with skim-boarders running to meet an incoming wave and riding it back to shore – performing impressive tricks along the way! With an epic soundtrack plus spectacular underwater and ariel shots, Matador stars professional skim-boarder Austin Keen in action among the crystalline blue waters and white sand beaches of Mexico. Wow factor guaranteed.
VOICE ABOVE WATER
11 minutes
Filmmaker: Dana Frankoff
Wayan is a 90-year-old Balinese fisherman who can no longer fish because of the amount of plastic pollution in the ocean. In a change of pace, Wayan instead uses his fishing boat and net to pull rubbish from the water, in the hope of one day being able to fish again. Voice Above Water is a glimpse into how one person is using his resources to make a difference, and a reminder that we can all accomplish something much greater than ourselves.
YARROW
5 minutes
Filmmaker: Abraham Joffe
London-based monochrone photographer David Yarrow steps ashore in South Georgia to capture the mind-blowing wildlife scenes of this remote and inhospitable island, only reachable by an 80-hour boat journey. But with hundreds of thousands of penguins and seals, surrounded by a cathedral of mountain peaks and hanging glaciers, this spectacle of nature is a sensory overload and it's hard to know where to start…
THE SEA TO ME | KATE HAMSIKOVA
3 minutes:
Filmmaker: Finisterre
Kate Hamsikova is a freediver and swimming instructor whose connection with the sea grew thanks to her friendship with a solitary wild dolphin called Dusty. Over the last 15 years Kate has become an experienced freediver, diving in many of the world's great oceans and sharing her passion for the sea with others – but here she tells her story from closer to home, on her beloved west coast of Ireland.
RACE TO ALASKA
50 minutes
Filmmaker: Zach Carver
The Race to Alaska is a boating race that pushes contestants to the edge of endurance, tackling 750 miles of dangerous waters, from Washington to Alaska, with no motors and no outside support. Those who take on the challenge are varied in their experience and motivations, but all share the same determination. Jumping to get perspectives from boat to boat, Race to Alaska is bracing, immersive, wonderfully congenial and a tribute to the spirit of adventure.