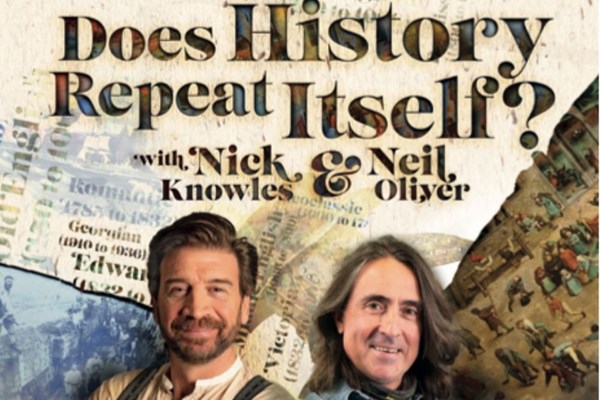 Nick Knowles & Neil Oliver
Box Office: 0131 529 6000
* Ticket prices include a contribution to the Theatres Development Fund. A £1 handling charge will be added if you ask us to post your tickets.
This show is not currently available to book.
Nick Knowles & Neil Oliver 
Does History Repeat Itself? ...In Search of the Heroes
For the first time, two of the most recognisable faces of British broadcasting will try and answer one of the most emotive and topical questions of our time, 'who are the British, and how did we get to where we are now'?
What has gone before keeps happening, and the real price is always paid, in blood, sweat and tears, by the same people. It is overlooked and forgotten souls who have always done the heavy lifting and bear the burden of history.
This country was heaved into place by serfs and slaves, villains and labourers. The ships that carried trade and transported the fighting men, the swords and longbows they wielded in battle, the ploughshares the farmers walked behind, the trees that were felled to build battleships and homes great and small, the stones shaped for cathedrals and the scaffolding that raised them up, every ounce of the coal that heated the furnaces, every ounce of metal mined from beneath our feet… all of it was the product of the effort and toil, the skill and endeavour of the common men and women of our past, bonded by common purpose.
This is a fanfare for the common man and woman – because the shoulders we stand upon today are theirs. The nameless, unheralded, and un-mourned. Ignored until now.
It is time to meet the common folk as Nick and Neil turn the spotlight on those who gave their all for the Britain we know today.
Groups (8+) £4 off Stalls and Dress. Please note groups cannot be booked online. If you wish to book a Group, please contact our dedicated Groups email, groups@capitaltheatres.com
Concessions £3 off. Concessions are limited and may be withdrawn at any time.
Discounts are available to people with disabilities, please call box office to buy your tickets. If you would like to book a wheelchair space or if you have any special requirements, please phone the box office who can advise. Our staff can be called on 0131 529 6000, by using Text Relay on 18002 0131 529 6003, or emailed at bookings@capitaltheatres.com.
From Monday 28 June 2021, the Box Office phones will be open Mon-Fri, 11-3pm.
All discounts may be withdrawn at any time. 
Capital Theatres aim to be accessible to all. We are committed to making your visit to our theatres as comfortable and enjoyable as possible. All of our Front of House staff undergo disability awareness training and Dementia Friend Training and will be pleased to assist you should you require any information or help.