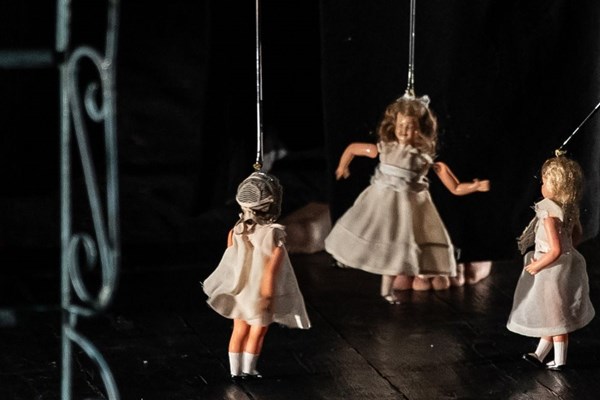 Mon 03 Feb & Tue 04 Feb 2020
Running time (approx.): 1 hour 5 minutes
Box Office: 0131 529 6000
*A £1 handling charge will be added if you ask us to post your tickets.
MANIPULATE presents After Chekov
Once upon a time there lived three sisters. They lived in the middle of nowhere with only a vague sense of time. They existed as if in a dream and, for them, that dream was real life. They moved like sleepwalkers and danced as though chasing the last departing train. Like Siamese triplets they shared everything in each other's lives, as though they were one. Experiencing an eternal present, they have no sense of a future. Can anything break the fractured rhythms of their everyday?
Samolœt is made up of a group of leading experimental visual theatre artists who hardness their Russian training and heritage with contemporary western European techniques and concepts to create intriguing and emotionally powerful work. This production has been acclaimed at leading festivals throughout Europe.
For more information on MANIPULATE, visit www.manipulatefestival.org
The performance of nostalgia, at the same time familiar to everyone, is at the same time indescribable. Nostalgia for a place or time - does not matter. This is an interesting theatrical study, similar to a psychotherapeutic session.

Galina Suprunovich, Saint-Petersburg
"After Chekhov" is not about the possibilities of interpretation, but about the associations of the production team, connected in particular with the play "Three Sisters" and, more broadly, with the rhythms and melody of Chekhov's dramaturgy in general.

Sonia Dymshits, Saint-Petersburg
Capital Theatres aim to be accessible to all. We are committed to making your visit to our theatres as comfortable and enjoyable as possible. All of our Front of House staff undergo disability awareness training and Dementia Friend Training and will be pleased to assist you should you require any information or help. 
Concessions £2 off
Discounts are available to people with disabilities, please call box office to buy your tickets. If you would like to book a wheelchair space or if you have any special requirements please phone the box office who can advise. Our staff can be called on 0131 529 6000 or by using Text Relay on 18002 0131 529 6003.
All discounts may be withdrawn at any time.