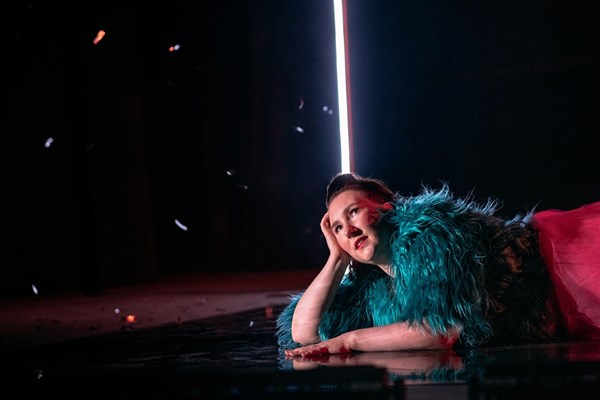 Sun 30 Jan & Mon 31 Jan 2022
Age: 18+ Descriptions of sexual violence and themes of cannibalism
Box Office: 0131 529 6000
* Ticket prices include a contribution to the Theatres Development Fund. A £1 handling charge will be added if you ask us to post your tickets.
Seating for this performance will be socially distanced 1m apart.
Eat Me
Snap Elastic
PREY: You ever eat a woman?
PREDATOR: Not yet.
Loud dress, no shoes - Prey slips in the rain, every raindrop a tooth. The Man, watching his neighbours from the shadows of his flat, sees breakups, group sex, a dog die and revive, and her - melancholic, solitary. For Predator nothing will ever be the same again.
One night, slipping through the liminal spaces, three nameless people download Tor, leave grandmother's house and run for their lives. EAT ME is a luscious, incendiary theatre show about unconventional love, chaos, control and the shifting complexities of power.
Snap-Elastic is a Scottish female-led theatre collective, led by Alice Mary Cooper, Eszter Marsalko, Isy Sharman and Claire Eliza Willoughby.
Contains descriptions of sexual violence and themes of cannibalism
EAT ME has been made in association with Curious Seed, and with support from Perth Theatre, Macrobert Arts Centre, Figurteatret i Nordland and Creative Scotland.
Credits
Devised and Performed by Ian Cameron, Isy Sharman and Claire Eliza Willoughby
Choreographer: Christine Devaney
Costume Designer: Annie Hiner
Director: Eszter Marsalko
Director of Photography: Conor O'Toole
Fight Director: Emma Claire Brightlyn
Lighting Designer: Simon Hayes
Production Manager: Sian MacGregor & Emma Jones
Set Designer: Anna Orton
Sound Designer: Matthew Collings
Stage Manager: Craig McNeill
Videographer: Rob Jones
Writer: Luke Sutherland
Dramaturgical support from Caitlin Skinner
Capital Theatres aim to be accessible to all. We are committed to making your visit to our theatres as comfortable and enjoyable as possible. All of our Front of House staff undergo disability awareness training and Dementia Friend Training and will be pleased to assist you should you require any information or help. 
Discounts are available to people with disabilities, please call box office to buy your tickets. If you would like to book a wheelchair space or if you have any special requirements, please phone the box office who can advise. 
All discounts may be withdrawn at any time.