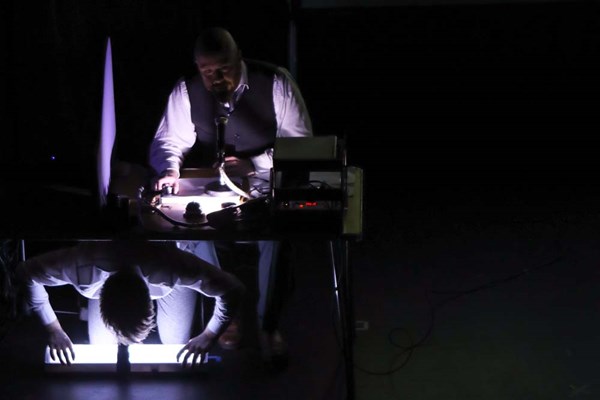 MANIPULATE: After Metamorphosis
Running time (approx.): 1 hour
Box Office: 0131 529 6000
* Ticket prices include a contribution to the Theatres Development Fund. A £1 handling charge will be added if you ask us to post your tickets.
Seating for this performance will be socially distanced 1m apart.
After Metamorphosis
Lewis Sherlock and Ali Maloney
Is Gregor Samsa a bug wishing he was a man or a man wishing he was a bug? 
After Metamorphosis is a high-octane, visceral reworking of Kafka's classic tale that weaponizes the surrealism of the original text into a wild rumpus; a satire of conformity.  
In a world of political and ecological turmoil, where unfathomably large corporations control everything and our food supply chain is in jeopardy, are we just workers for the hive? Are we all Gregor Samsa?  
Through intense physicality, visual theatre, micro-cinema, puppetry, vocals, and rumbling, seismic soundscapes, After Metamorphosis conjures a world of insects and humans coexisting. Are we really that different? 
As intense and brooding as it is playful and mischievous, AFTER METAMORPHOSIS peers through the eyes of insects to both lampoon and celebrate humanity, scuttling — mandibles a whir — around themes of imposter syndrome, identity, capitalism, the hive mind, and our relationship with the environment and ecosystem. 
Devised and performed by physical theatre artist Lewis Sherlock (Oceanallover, LARDS) and performance writer Ali Maloney (Caledonian Gothic, Ratcatcher, Hydronomicon). The combination of their respective practices — experiments with clowning, bouffon, butoh, and choral; dark, abstract rap burlesques and the physicality of voice — lends After Metamorphosis its potent palette.
Credits
Devised & performed by Ali Maloney & Lewis Sherlock 
Sound & music design: Owen Green (except: Uranium Blues by Crooked One)
Technical Direction: Brian Hutchinson 
Set design: Alima Askew 
Producer: Nick Wong 
Directorial Consultant: Melanie Jordan
Movement Consultant: Al Seed
BSL interpretation: Amy Cheskin
Funded by Creative Scotland 
This Production contains the use of Strobe Lighting
Level access is available to the venue.
Hearing loop installed.  
Capital Theatres aim to be accessible to all. We are committed to making your visit to our theatres as comfortable and enjoyable as possible. 
All of our Front of House staff undergo disability awareness training and Dementia Friend Training and will be pleased to assist you should you require any information or help. 
Discounts are available to people with disabilities, please call box office to buy your tickets. 
If you would like to book a wheelchair space or if you have any special requirements, please phone the box office who can advise. 
All discounts may be withdrawn at any time.