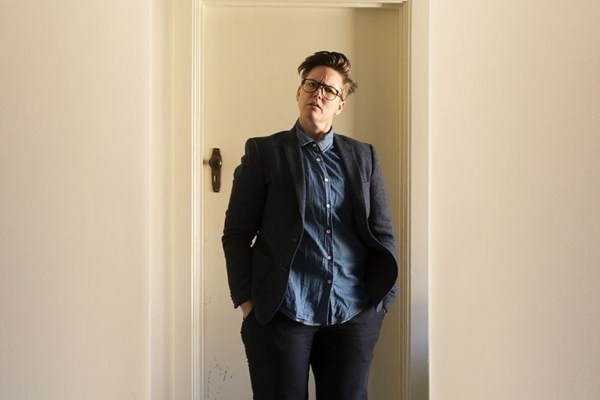 Running time (approx.): 2 hours
Age: 16+ (some language may be considered offensive)
Box Office: 0131 529 6000
* Ticket prices include a contribution to the Theatres Development Fund. A £1.50 booking fee will be added at checkout. A £1 handling charge will be added if you ask us to post your tickets.
Hannah Gadsby: Douglas
Hannah Gadsby's tenth solo show was Nanette. It did alright.

Nanette played around Australia and the UK for 18 months, taking out the top prizes at the Melbourne and Edinburgh festivals before sitting down in New York and dropping a Netflix special in June 2018 that won her a Peabody Award and started a global conversation that continues today.

While Nanette was a random barista, Douglas is a very specific dog, and the only thing they have in common is they've inspired Hannah to put pen to paper and turn out a show you couldn't possibly expect. Hannah found her voice with Nanette, and with Douglas she plans to use it.
The stand-up stage has been Hannah's home for more than a decade, and the last couple of years have given her a few very new ideas to think and talk about in her brand new show.
Please note: Hannah Gadsby's tour is a phone-free experience. Upon arrival at the venue, all phones and smart watches are secured in Yondr  cases that can be opened at the end of the event.
Guests maintain possession of their phones at all times, and can access their phones throughout the show at designated phone use areas. All phones will be re-secured in Yondr cases before returning to the performance space.
We appreciate your cooperation in creating a phone-free viewing experience.
★★★★★
Makes me laugh in ways that hurt

Time Out
★★★★ 1/2
Douglas, her follow-up to a show that would seem impossible to top, is another triumph

Chortle
Capital Theatres aim to be accessible to all. We are committed to making your visit to our theatres as comfortable and enjoyable as possible. All of our Front of House staff undergo disability awareness training and Dementia Friend Training and will be pleased to assist you should you require any information or help.