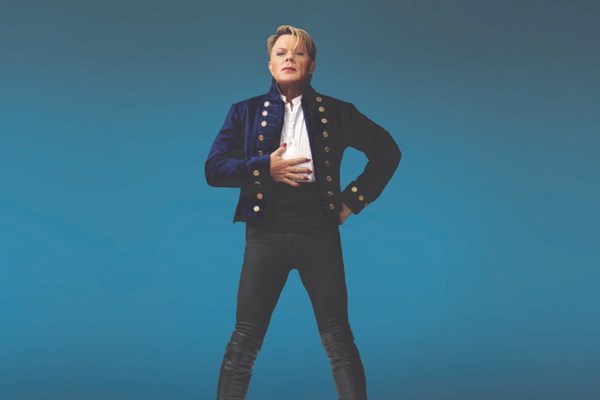 Sat 19 Oct & Sun 20 Oct 2019
Box Office: 0131 529 6000
Starting from £31.50-46.50*
* Ticket prices include a contribution to the Theatres Development Fund. An £1 handling charge will be added if you ask us to post your tickets.
Eddie Izzard - Wunderbar
Five years after his last comedy tour FORCE MAJEURE made comedy history having played 45 countries including all 50 US States AND in four languages, making it the most extensive comedy show ever, EDDIE is back to his roots with an all-new rather personal show which expands on his own very unique, totally surreal view of life, love, history and his 'theory of the universe'.
"It is getting close to the time when I have to go off for a while to have a political life. But before I do that, I want to keep giving audiences around the world the best stand-up comedy shows that I can – especially at a time of Brexit-hate and Trump-hate. My new show is about everything from humans over the last 100,000 years to talking dogs and animal superheroes. I am looking forward to coming to see everyone again."
WUNDERBAR is a delicious insight into the surreal and fantastical world of EDDIE IZZARD. 
Presented by Mick Perrin Worldwide Ltd. This show may contain strong and imaginative language.
Capital Theatres aim to be accessible to all. We are committed to making your visit to our theatres as comfortable and enjoyable as possible. All of our Front of House staff undergo disability awareness training and Dementia Friend Training and will be pleased to assist you should you require any information or help. 
Discounts are available to people with disabilities, please call box office to buy your tickets. If you would like to book a wheelchair space or if you have any special requirements please phone the box office who can advise. Our staff can be called on 0131 529 6000 or by using Text Relay on 18002 0131 529 6003.
Discounts may be withdrawn at any time