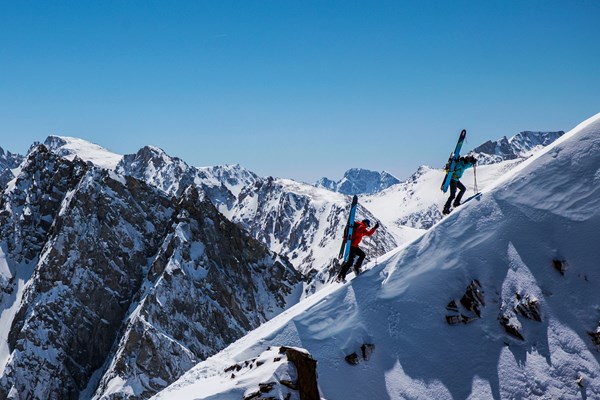 Banff Mountain Film Festival
Wed 01 Sep & Thu 02 Sep 2021
Running time (approx.): 2 hours 45 minutes (incl. 20 min interval)
Box Office: 0131 529 6000
* Ticket prices include a contribution to the Theatres Development Fund. A £1 handling charge will be added if you ask us to post your tickets.
Banff Mountain Film Festival
Embark on a thrilling night of adventure with a brand-new collection of short films from the world's most prestigious mountain film festival.
The Banff Mountain Film Festival joins the world's best adventure film-makers and explorers as they push themselves to the limits in the most remote and stunning corners of the globe. Witness epic human-powered feats, life-affirming challenges and mind-blowing cinematography – all on the big screen!
An adrenaline-fuelled, not-to-be missed event with free prize giveaways that is guaranteed to ignite your passion for adventure, action and travel!
Double - or triple - your adventure!
There are two shows, each with an entirely different selection of films - the Yellow Film Programme (1 September) and the Green Film Programme (2 September). Book both at the same time to get £2 off each ticket.
Ocean Film Festival returns to the Festival Theatre on Fri 3 September - book at the same time as any Banff screening to get £2 off each ticket.
Select seats for one screening and add to Basket

Change "Full-price tickets" to "0" and either "2-show" or "3-show saver" to the number of seats

Click "Next", then scroll down and click "Continue Shopping"


Select either Banff or Ocean and repeat the process
Capital Theatres aim to be accessible to all. We are committed to making your visit to our theatres as comfortable and enjoyable as possible. All of our Front of House staff undergo disability awareness training and Dementia Friend Training and will be pleased to assist you should you require any information or help. 
Multiple Screenings £2 off each ticket when you book for both Banff screenings, or Ocean Film Festival at the same time. Add multiple Banff or Ocean screenings to your basket and discount will be applied at checkout.
Select seats for one screening and add to Basket

Change "Full-price tickets" to "0" and either "2-show" or "3-show saver" to the number of seats

Click "Next", then scroll down and click "Continue Shopping"


Select either Banff or Ocean and repeat the process
Early Bird £1.50 off. Select Early Bird discount. Ends 31 May.
Groups (8+) £2 off (Stalls and Dress only) Please note groups cannot be booked online. If you wish to book a Group, please contact our dedicated Groups email, groups@capitaltheatres.com
Concessions £1.50 off. Concessions are limited and may be withdrawn at any time
Discounts are available to people with disabilities, please call box office to buy your tickets. If you would like to book a wheelchair space or if you have any special requirements, please phone the box office who can advise. Our staff can be called on 0131 529 6000, by using Text Relay on 18002 0131 529 6003, or emailed at bookings@capitaltheatres.com.
From Monday 28 June 2021, the Box Office phones will be open Mon-Fri, 11-3pm.
All discounts may be withdrawn at any time.
YELLOW PROGRAMME:
Running The Roof
45 minutes
Three friends from the UK and Canada are desperate to ditch their desks and go on an adventure. One night, after a few too many drinks, they place a bet. They spin a globe and wherever their finger lands, they will run. Tajikistan. This is not a story about finish lines or medals, but about what happens when you trust in nothing but your own two feet to carry you across one of the last truly wild landscapes on earth. 
Return to El Guayas
32 minutes
Ben Stookesberry, Rafa Ortiz and Lane Jacobs attempt the first descent of one of Colombia's wildest rivers: El Rio Guayas. Paddling into the unknown, the team face rumours of armed groups in an unstable security situation, and raging rapids from torrential rain. Navigating by satellite imagery, this is an expedition deep into South American jungle, with roadless beauty, powerful white-water and extreme adventure.
K2: The Impossible Descent
23 minutes
K2, the Savage Mountain, holds a mythical place in the hearts of climbers – one in four do not return from it. On 22 July 2018, Polish ski-mountaineer Andrzej Bargiel makes 'the impossible descent' from its summit. He does it solo, and without supplemental oxygen. The mountaineering community is stunned and mainstream press takes notice. Join Andrzej across knife-edge ridges, above 1,000m cliffs and down 75-degree slopes in a nail-biting accomplishment of one of mountaineering's most coveted firsts.
Accomplice: The Time Machine
6 minutes
Brothers and freeride mountain bikers Cam and Tyler McCaul embark on a high-adrenaline game of follow the leader on the outrageously rocky slopes of Utah. As well as thrilling biking, Accomplice is a homage to our two-wheeled sidekick, and celebrates how the bicycle is more than just a mode of transportation – it's a vehicle for the human spirit.
Charge 2
4 minutes
Team Charge are back – and more charged than ever! Five top freeskiers and one world champion drone pilot have a week in British Columbia with the instructions: charge as hard as you can every day. With unique angles, high flying trickery and impressive jumps between tight treelines, Charge 2 ups the level of difficulty on the original film… high energy and epic powder guaranteed.
FKT
11 minutes
At 1,788 metres, Mount Brunswick is the highest peak of the North Shore Mountains in British Columbia – a rugged, spectacular climb that takes regular hikers seven to eight hours complete. Enter trail runner Jeanelle Hazlett, who's attempting to set a Fastest Known Time (FKT) record on the mountain. A ferocious challenge… and on the knife-edge ridge, one wrong step could mean serious injury or death.
GREEN PROGRAMME:
The Ghosts Above
36 minutes
It's one of the greatest mysteries in exploration: who made the first ascent of Everest? National Geographic photographer Renan Ozturk joins an expedition up the mountain on a quest to find out. Turning stereotypes on end, The Ghosts Above also reflects on commercialisation of this sacred peak, the relationship between Sherpas and expeditioners, and the rigors of climbing in the death zone. A visually stunning film that's raw, poetic and powerful.
Ocean to Asgard
34 minutes
Four friends (three Canadians and a rogue Brit) travel to Baffin Island in the Arctic Circle on a human-powered adventure, featuring big wall first ascents, white-water paddle descents and a surprising number of Arctic flamingos. The 40-day expedition sees the team pioneer a new climb on the legendary Mount Asgard, capsize packrafts in glacial waters and more, in a true grassroots expedition.
The Long Today
17 minutes
Not many people celebrate turning 70 with a remote river trip, but after some 'gentle' persuading from his sons, Jamie Thompson and his family embark on an expedition deep into the Canadian wilderness. Navigating a notorious river in an antique hand-built wooden canoe, the Thompsons tackle technical rapids and extreme portages through dense forest – and the journey reminds them of the importance of living in the moment, and of the bonds formed in the great outdoors.
The Chairlift
12 minutes
The humble chairlift is often over-looked, but it could be the single greatest invention in the history of modern skiing. A celebration of the under-appreciated device that brings skiers together, The Chairlift shares stories of connections forged while passing the time back to the top of the slopes. An ode to the creation that enabled a sport and acts as a central pillar of ski culture.
My Last Day of Summer
9 minutes
It's the last day of summer and Julia is at the local bike shop hoping that her bike can be fixed. While checking out the flashy displays of new bikes and shiny components, a comic book catches her eye and she finds herself on a ride like no other. A dynamic and fresh vision of riding and the freedom it brings to an amazing young rider.
Natural Mystic
3 minutes 
Jump aboard for three minutes of thundering skiing with Sam Favret through the Aiguilles Rouges of Chamonix. With no gimmicks, tricks or music, the sound of the elements immerses you into the tracks of this legendary local Chamonix rider. Big mountain skiing at its finest.