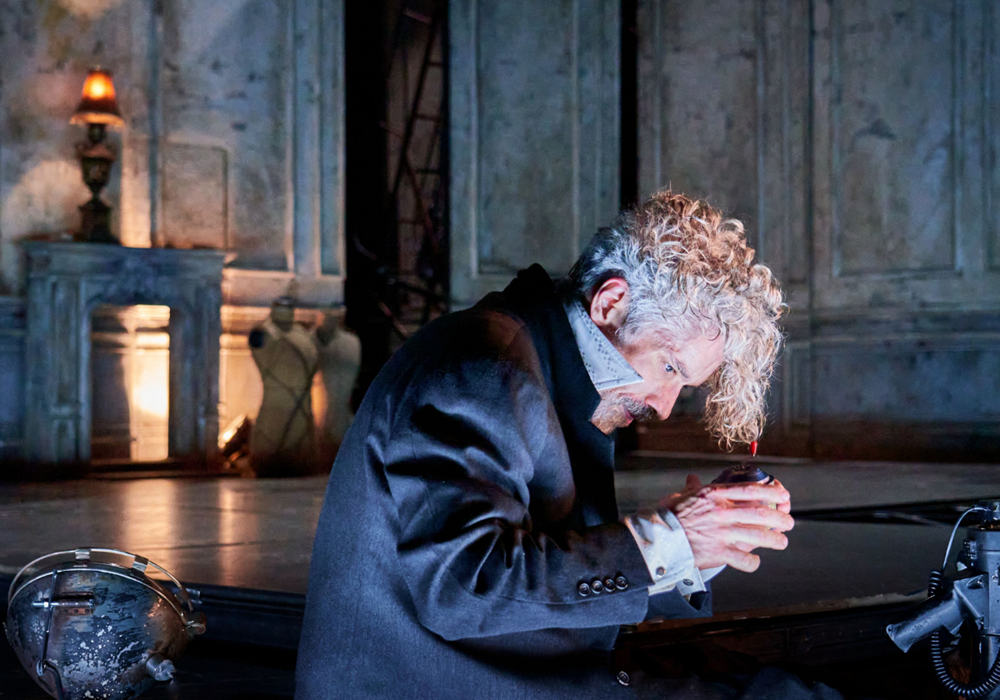 EIF: ROOM
Sat 13 to Wed 17 Aug 2022

Evenings 8pm | Matinee Wed 3pm
Running time (approx.): 1 hour 45 minutes
Tickets bookable via Edinburgh International Festival
Box Office: 0131 473 2000
Edinburgh International Festival
ROOM
Swiss artist James Thierrée returns to the International Festival with an unmissable spectacle from his physical theatre company.
Following his sell-out 2016 show The Toad Knew, James Thierrée returns to the International Festival with ROOM, a spectacular new show that blends live music, dance, mime and curiosities into a hallucinatory spectacle that defiantly rejects categorisation.
In ROOM, Thierrée wants to renew his relationship with his audience. To begin a new chapter. To open the toolbox, dig deep, intensify, magnify, and find joy. To draw actors and audience closely together as only shared experiences can.
Thierrée is one of Europe's most extraordinary and versatile artists, using his talents to create magical dream-like performances that captivate, charm and inspire. With an unbridled musical ensemble, ROOM takes us on a multi-layered, outrageous journey through his extraordinary world of wonder.
*All tickets are booked and fulfilled by Edinburgh International Festival
Dates
Artists
La Compagnie du Hanneton
James Thierrée Creator, Director and Original Music
Cast includes Anne-Lise Binard, Ching-Ying Chien, Mathias Durand, Samuel Dutertre, Hélène Escriva, Steeve Eton, Maxime Fleau, Nora Horvath, Sarah Manesse and Alessio Negro
An Edinburgh International Festival co-production.
Co-produced by Edinburgh International Festival, Théâtre de Carouge, La Comédie de Clermont- Ferrand Scène Nationale, Théâtre de la Ville Paris, Le Théâtre de Namur, Le Théâ-tre des Célestins, Lyon, Chekhov International Theatre Festival, Moscow, Théâtre Sénart Scène Nationale de Lieusaint, Anthéa Antibes, LG Art Center Seoul, Equilibre-Nuithonie – Fribourg, Le Volcan Scène Nationale Le Havre, Opéra de Massy, Théâtre du Passage Neuchâtel, Le Parvis Scène NationaleTarbes, L'arc Scène Natio-nale Le Creusot, Berliner Festspiele, Festpielhaus St Pölten. Residencies at Théâtre Sénart Scène Nationale de Lieusaint, L'arc scène nationale and Théâtre de Carouge.
Discounts
From priority booking, under-18s are entitled to a 50% discount and disabled people are entitled to a 30% concession discount.
From 8 April 2022, there is a 30% discount for recipients of pension credit, universal credit, employment and support allowance or jobseeker's allowance, art workers, full-time students and 18-25 year-olds . Subject to availability and may exclude top-price tickets. Proof of eligibility may be requested at venues.
Ticket prices may vary from previously published prices.
All discounts may be withdrawn at any time. 
Access
Capital Theatres aim to be accessible to all. We are committed to making your visit to our theatres as comfortable and enjoyable as possible. All of our Front of House staff undergo disability awareness training and Dementia Friend Training and will be pleased to assist you should you require any information or help. 
Drama

Thu 28 to Sat 30 September 2023

Take Part Activities

Fri 29 September , Fri 13 October , Fri 27 October & Fri 10 November 2023

Musical

Mon 2 to Sat 7 October 2023