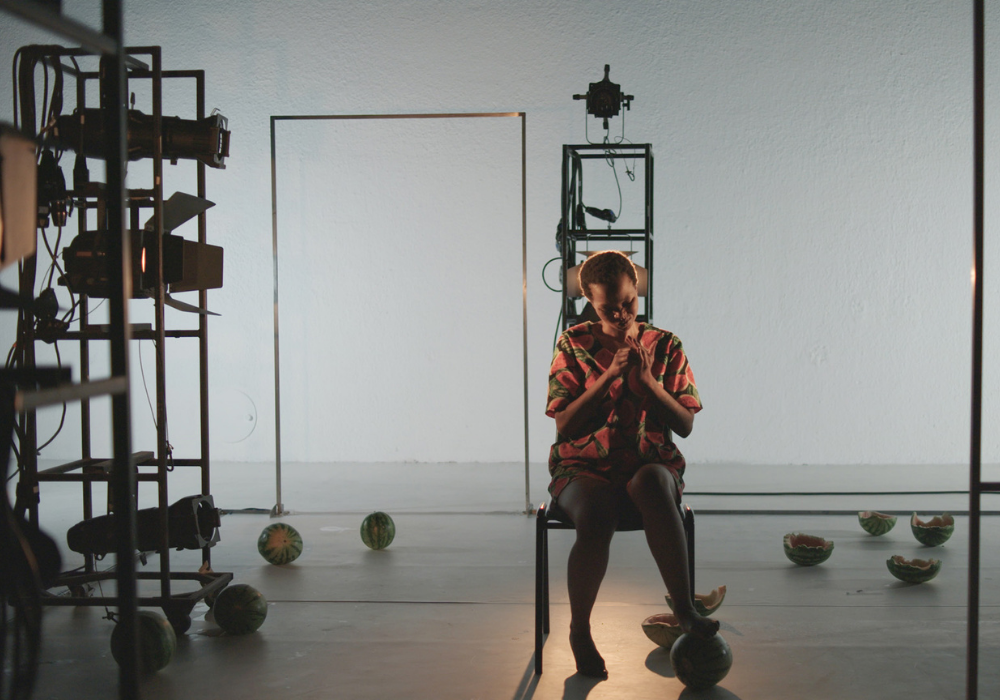 EIF: as british as a watermelon
Tue 23 to Fri 26 Aug

Evening: 8pm
Running time (approx.): 1 hour
Tickets bookable via Edinburgh International Festival
Box Office: 0131 473 2000
The Studio
Box Office: 0131 529 6000
Ticket prices
*All tickets are booked and fulfilled by Edinburgh International Festival
Edinburgh International Festival
as british as a watermelon
Join queer Zimbabwean performer mandla rae for this colourful & personal exploration of childhood migration memories.
'My name is mandla.
It means power.
I gave it to myself.'
Zimbabwean writer and performer mandla rae has a selective memory and is scrambling to piece together a life mostly forgotten in the name of survival. Through the exploration of mandla's fragmented LGBTQ asylum and childhood migration memories, as british as a watermelon asks powerful questions about belonging, trauma and forgiveness.
Told through an unflinching narrative, weaving poetry and storytelling together with destruction and colourful chaos, you are invited to join mandla's rise from the dead and reclamation of misplaced power.
The Refuge series is supported by British Council, Edinburgh Futures Institute at the University of Edinburgh and Claire and Mark Urquhart.
Made possible through the PLACE programme
Artists
Refuge Series
mandla rae Writer and Performer
Discounts
All tickets are sold via the Edinburgh International Festival.
From priority booking, under-18s are entitled to a 50% discount and disabled people are entitled to a 30% concession discount.
From 8 April 2022, there is a 30% discount for recipients of pension credit, universal credit, employment and support allowance or jobseeker's allowance, art workers, full-time students and 18-25 year-olds . Subject to availability and may exclude top-price tickets. Proof of eligibility may be requested at venues.
Ticket prices may vary from previously published prices.
All discounts may be withdrawn at any time. 
Access
BSL - Sign Language Interpreted
Capital Theatres aim to be accessible to all. We are committed to making your visit to our theatres as comfortable and enjoyable as possible. All of our Front of House staff undergo disability awareness training and Dementia Friend Training and will be pleased to assist you should you require any information or help. 
Spoken Word

Sun 16 October

Spoken Word

Tue 18 October

Spoken Word, Take Part Activities

Thu 1 to Fri 2 & Thu 8 December