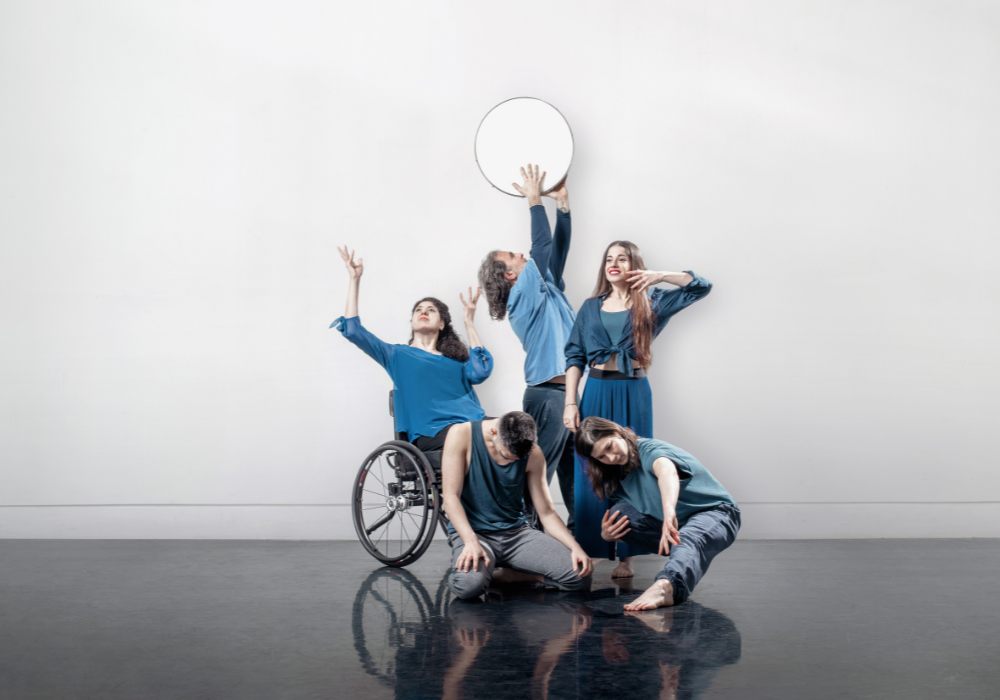 EIF: A Wee Journey
Tue 16 to Thu 18 & Sat 20 Aug

Evenings: 7:30pm
Relaxed Performance: Thu 18 Aug, 2:30pm
Running time (approx.): 1 hour
Tickets bookable via Edinburgh International Festival
Box Office: 0131 473 2000
The Studio
Box Office: 0131 529 6000
Ticket prices
*All tickets are booked and fulfilled by Edinburgh International Festival
Edinburgh International Festival
A Wee Journey
Live music, choreography and storytelling combine to create a compelling exploration of migration experiences.
A Wee Journey invites audiences to embark on a choreographed musical journey, fusing dance, music and performance to explore belonging, connection, community and home.
Combining choreography by Palestinian artist Farah Saleh, live music and composition by Turkish musician Oğuz Kaplangi and movement from an ensemble of performers, A Wee Journey is a collaborative piece that centres on compassion and empathy to share the lived experiences of the artists and their relationship to migration.
Reflecting on a world where constant movement across borders means that anyone can become a migrant, this piece celebrates diversity and reflects on the experiences of many people living in Scotland and around the world.
The Refuge series is supported by British Council, Edinburgh Futures Institute at theUniversity of Edinburgh and Claire and Mark Urquhart
Made possible through the PLACE programme
Artists
Refuge Series
Created by Farah Saleh and Oğuz Kaplangi, in collaboration with the performers
Farah Saleh Co-director and Choreographer
Oğuz Kaplangi Co-director, Composer and Performer
Emma Jones Lighting Designer
Zephyr Liddell Costume and Set Designer
Performers Daniel Navarro Lorenzo, Francesca Till, Leticia Sanchez and Nada Shawa

Helen McIntosh Producer
Fi Fraser Production Manager
Discounts
All tickets are sold via the Edinburgh International Festival.
From priority booking, under-18s are entitled to a 50% discount and disabled people are entitled to a 30% concession discount.
From 8 April 2022, there is a 30% discount for recipients of pension credit, universal credit, employment and support allowance or jobseeker's allowance, art workers, full-time students and 18-25 year-olds . Subject to availability and may exclude top-price tickets. Proof of eligibility may be requested at venues.
Ticket prices may vary from previously published prices.
All discounts may be withdrawn at any time. 
Access
Relaxed Performance
Thu 18 August, 2.30pm
Audio Description
Sat 20 August 7.30pm
Capital Theatres aim to be accessible to all. We are committed to making your visit to our theatres as comfortable and enjoyable as possible. All of our Front of House staff undergo disability awareness training and Dementia Friend Training and will be pleased to assist you should you require any information or help. 
Dance

Fri 19 to Sun 21 August

Dance

Sat 20 to Sun 21 August