Council funding confirmed for King's theatre campaign
The campaign to transform the King's Theatre has received confirmation of £4m of funding in the City of Edinburgh Council's capital budget for 2018/23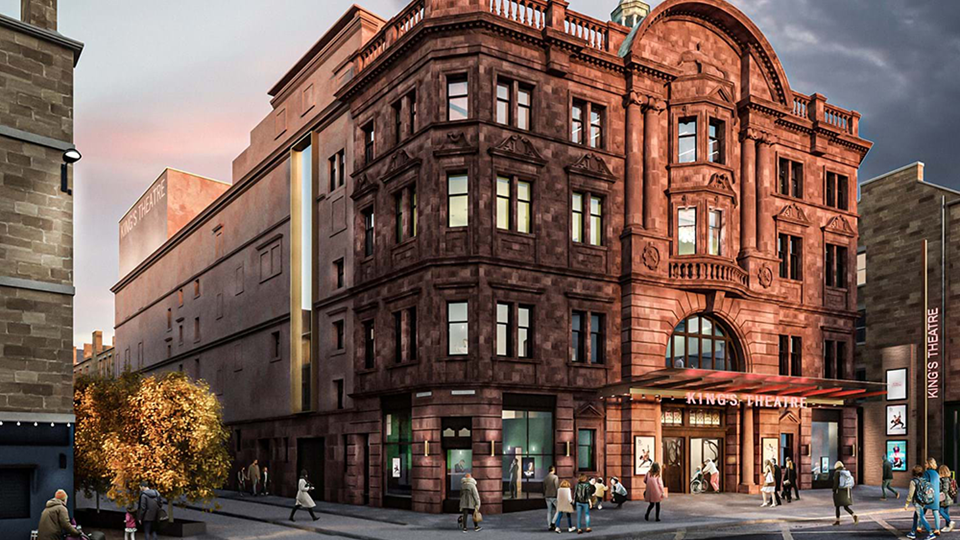 The campaign to transform the King's Theatre has received confirmation of £4m of funding in the City of Edinburgh Council's capital budget for 2018/23.
At a meeting of the City of Edinburgh Council held on 22 February, the council agreed its capital budget for the next few years including significant provision for cultural infrastructure. The £10m of support for cultural infrastructure projects includes £4m which has been committed to the £25m campaign to transform the King's Theatre
This Council commitment sits alongside £5m from the Trust's own resources – raised through an existing levy on theatre tickets.  This £9m of confirmed funding represents a major step in the King's Campaign realising its ambition to transform the landmark theatre building for generations to come, underpinning the project financially and establishing vital leverage to secure additional funding.
Duncan Hendry, Chief Executive of the Festival City Theatres Trust, which runs the Festival and King's Theatres, says: 'This significant commitment gets the ball rolling for us on the King's fundraising campaign. Our thanks to the City of Edinburgh Council for this considerable investment in the capital project that will help transform the theatre creating a high quality cultural experience for all, including a vibrant heritage experience and wide ranging educational facilities.'
Opened in 1906, the King's Theatre is a cornerstone in the cultural life of the city, a place of gala openings, royal visits, performances from stars such as Laurence Olivier, Maria Callas and Rudolph Nureyev. One of the key venues for the Edinburgh International Festival since its beginnings in 1947, the King's is home to a curated programme of drama, musical theatre, kids shows and pantomime and welcomes over 190,000 visitors a year.
The planned redevelopment of the King's is expected to significantly increase its visitor numbers, creating a vibrant, open-all day arts centre, accessible to all backstage and front of house with new lift access, brand new education spaces and a new roof-top area for taking in stunning views of the city skyline from Arthur's Seat to Edinburgh Castle.
Crucially the redevelopment will overhaul on-stage facilities, which have remained largely untouched for over 100 years, allowing the King's to attract even more prestigious productions, and creating a visitor experience telling the history of the King's and its place in the cultural life of Scotland.
Construction work is expected begin at the King's in September 2021 with a projected re-opening in the spring of 2023.