Meet Lynne and Mia, our Saltire interns
This year Capital Theatres has welcomed the opportunity to host two Saltire Scotland interns as part of our efforts to inspire young talent to pursue a career in the theatre industry, and to encourage the future leaders of tomorrow to continue our mission of inspiring a lifelong love of theatre.
Supported by Entrepreneurial Scotland, the Saltire Scholar Internship Programme "matches high-potential undergraduates from Scottish universities" with a wide range of global leading organisations, from entrepreneurial companies to charities.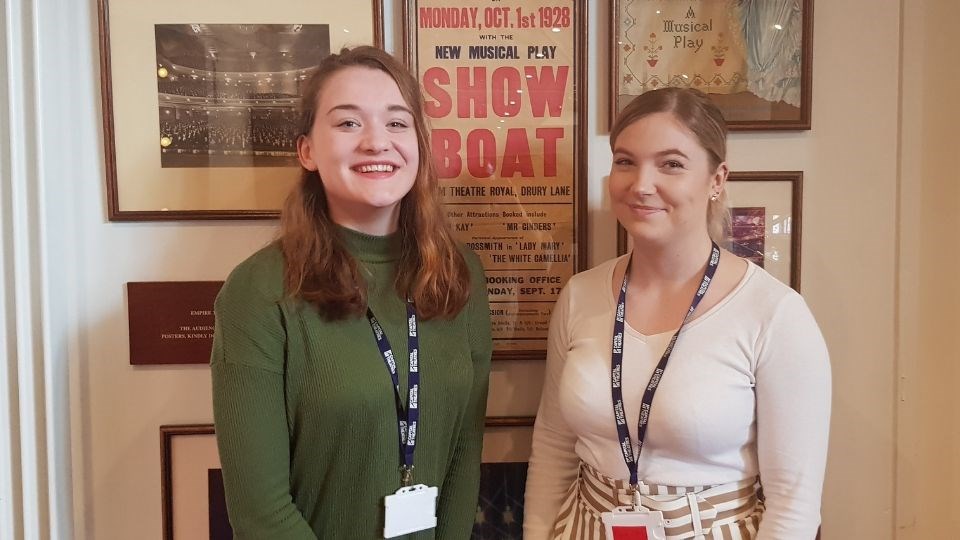 We were delighted to hear that Capital Theatres was chosen as part of the Saltire Scholar Internship Programme to welcome two brilliant young women to the Capital Theatres family. Lynne Gray, student of Politics and International Relations at the University of Aberdeen, joined the Learning and Participation team, while Mia Clarke, Business and Management student at the University of Glasgow, joined the Development team.
During their ten-week internship, we hope to offer them invaluable work experience in the arts as well as an overarching overview of the theatre and community work we undertake as Scotland's largest independent theatre charity. We caught up with Lynne and Mia half-way through their internship to ask them a couple of questions.
What were your first impressions?
L:  Every member of staff is welcoming and unbelievably willing to assist where they can. What really caught me by surprise is the substantial passion every employee holds for their job. Not having theatre experience has not been an issue as all of the team are always willing to share their experience and knowledge. 
M:  I was nervous to start in a new environment where I was unsure of how all the very different departments work together, however I have noticed how everyone from the Chief Executive to the Front of House staff work under the same mission and have a real community mindset. Me and Lynne have been made to feel very welcome by everybody, and it is safe to say we both already feel settled in! 
What will you be working on?
L:  Primarily, I will be asset mapping the Tollcross area in order to encourage community engagement with the Kings redevelopment. Capital Theatres aims to make theatre more inclusive and to become a social hub for the community. This resonates with me as I do believe that building a strong community is essential to people's wellbeing. I believe that this project could make a real impact. 
M: Every Saltire Scholar is assigned to a project, and mine is helping to fundraise the capital to regenerate the King's Theatre, one of Capital Theatre's three venues, as well as fundraise for the wide array of community projects they organise. On my first day here I was chucked in straight away to the work of Development and was given all the different tasks I would have to complete in the run up to the 25th Anniversary celebrations which were in 12 days time! It was very fast paced but I really enjoyed my first day.
What do you hope to achieve from your internship?
L:  I hope to have developed numerous versatile professional skills and have a brand-new insight and understanding of another approach to community engagement. I hope to create a strong professional network and build my confidence so that I can complete tasks utilising my initiative and knowledge. I am also hoping to find my passion and a possible direction to take post-graduation.
M: My main professional goal for my placement was to apply what I have learnt in my Management degree to a real-world job and to gain a larger understanding of the arts industry. I have also always had an interest in event management from a young age, and this placement has allowed me to develop these skills, from designing event invites to greeting guests on the night. This has been an element I didn't know applied to the arts, and has been really enjoyable for me so far.
What has been your highlight so far?
L: Despite only being five weeks into my internship, there has been numerous highlights, however the one that has made the largest impact on me was getting to witness a dementia friendly tea party. These events are held regularly by Capital Theatres and invite people living with dementia and their carers along to an afternoon of music and fun. Seeing everyone in attendance in such high spirits really demonstrated the fantastic work that Capital Theatres completes, and in all honesty, I have never been asked to dance so often in my life.
M: Probably getting the tour around the King's, I found it so interesting especially because it is so old, and it was really nice to actually see why it needs redeveloping. Also, during the Festival Theatre 25th anniversary celebrations I got to watch an opera for the first time and actually really enjoy it!
Everyone at Capital Theatres is extremely proud of the work Lynne and Mia have undertaken so far and we can't wait to see what they continue to accomplish during their 10-week internship.