Rehearsal Room event for A Taste of Honey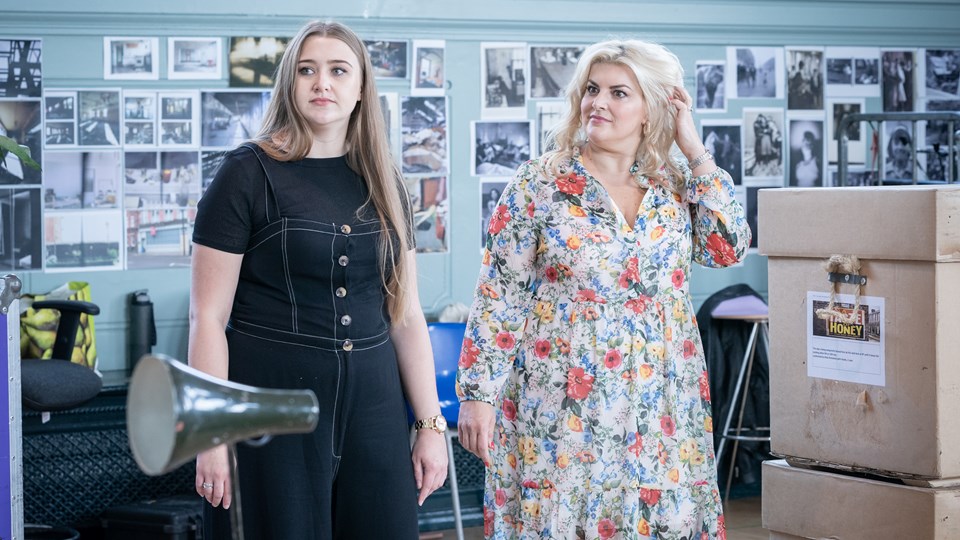 Less than a month before A Taste of Honey opens its UK tour, we were invited down to London to meet the cast in rehearsal.
Jodie Prenger: Helen
Gemma Dobson: Jo
Durone Stokes: Jimmie
Stuart Thompson: Geof
Tom Varey: Peter
The cast have been rehearsing for three weeks at WAC Arts. Every inch of space in the massive main hall of this grand Victorian building is taken up with props, scenery and set. Rusty scaffold bars make up bed frames, dilapidated retro furniture and vintage suitcases fill the floor, walls are lined with mood boards and shelves cluttered with antique bottles, teddy bears, books and bric a brac. It's all a bit Steptoe & Son, and evidence, if we needed it, that the National Theatre is immersing itself in the world of 1950s, working class Salford, the setting of Shelagh Delaney's incendiary play.
We're here to get a taste of the show, a sense of the style that director Bijan Sheibani and designer Hildegard Bechtler have brought to it, the performances that the cast are crafting and also the contemporary jazz score that will be performed on stage live as part of the show.
Delaney's play focuses on the dysfunctional dynamic between mother Helen and daughter Jo. The male characters in the play Resident Director Lucy Wray describes as being for Delaney, 'a bit of an after-thought'. That said, the characters of sleazy car salesman Peter, art student Geof and sailor Jimmie are vividly drawn.
Jodie Prenger plays the 'alcoholic monster' mother Helen. 'She's fierce, she's feisty and she has this amazing love/hate relationship with her daughter'. When Helen runs off to marry car salesman Peter, teenager Jo becomes pregnant by sailor Jimmie who soon abandons her to go to sea. At this point, art student Geof moves in and assumes the role of surrogate parent.
Gemma Dobson who plays Jo says she's appreciating the emotional depth of her character. She's loving the rich, northern vernacular and compares the language and the pace of the play to a theatrical roller-coaster that completely captures Salford at the end of the 1950s.
For her the play shouts loud that 'it's alright not to like your family sometimes, that's just a fact of life'.
Prenger, who's no stranger to playing strong women is back at the King's after playing the leads in Shirley Valentine and Abigail's Party.  'I'm always playing these alcoholic monsters' she says, laughing, 'they're the best to play, so long may they drink!'
The rehearsal room event treats us to Jodie and Gemma running the play's opening scene and Jodie singing a blousy jazz version of Besse Smith's 'A Good Man Is Hard to Find', the lyrics of the song saying much about her character's bad choices. The musical score to the play blends rock n roll, soul, blues and jazz to make a sound resonant of the 1950s but like the music of Amy Winehouse, a sound that's also very much of today.
Winehouse has clearly been an inspiration for the style and sound of the piece. Her great success was to make the 1950s sound relevant and contemporary, and it's a trick that this production is also looking to pull off - making Delaney's working-class drama as relevant for now as it was 60 years ago.
Combining the inherent humour and pathos of the play with beautifully realized characters, song and movement, what we see beginning in this rehearsal room event is the kind of seamless flow that National Theatre productions like The Curious Incident and Jane Eyre do so very well.
Book now for A Taste of Honey at The King's Theatre, Tue 24-Sat 28 September.
The cast of A Taste of Honey in rehearsals
Photos Marc Brenner