60 seconds with Cameron Blakely
Ahead of The Addams Family creeping into Edinburgh next year, we sat down with one of the stars of the musical, Cameron Blakely, who reprises his role as Gomez Addams.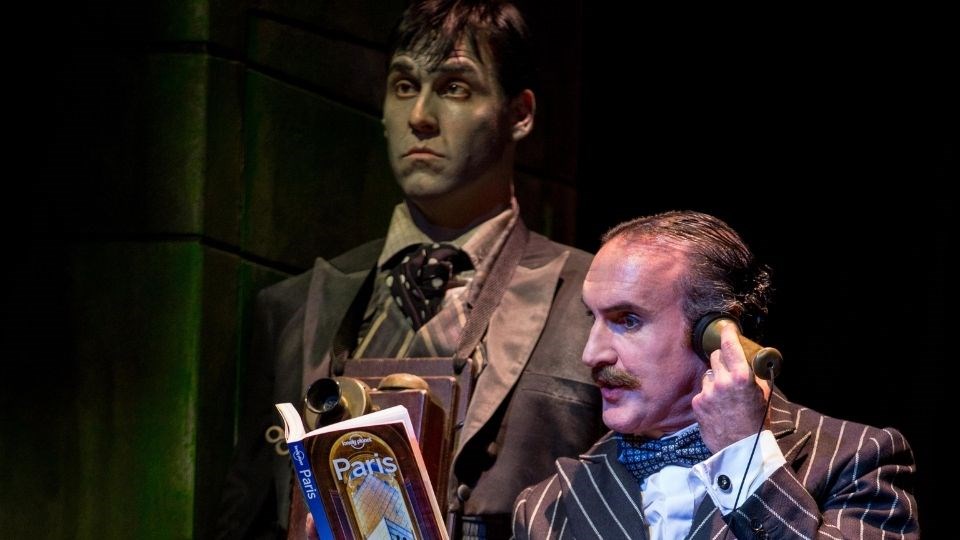 What's in store for audiences who come see The Addams Family?
A lot of quirkiness, a lot of laughs and a lot of miscommunication. In a way it's like a dark farce. And I think everyone needs a bit of escapism at the moment, after the year we've all had, and this show really provides that. Whether it's any form of the arts, be it theatre or music, it's lovely to be able to forget what everyone's been going through and just have a great time.
How did it feel when the tour kept being put on hold because of the pandemic?
It was delayed a few times at various points during various lockdowns, which was very frustrating. But I ended up using my driving skills to do Argos deliveries for a while, which was jolly good fun. I really enjoy driving so I thought 'How can I at least try and make a bit of money out of it?' I did that and it was very enjoyable just keeping active and doing something.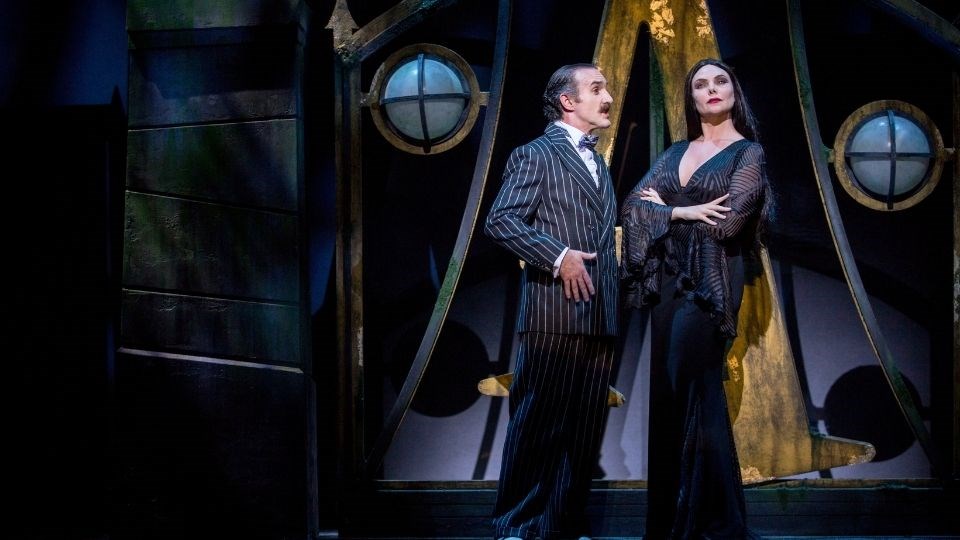 What are you most looking forward to about being back on stage?
Just the thrill of doing what you're trained to do, your main vocation, and to connect with a crowd again - knowing that you're hopefully making people happy and making them laugh. It's also going to be great seeing other parts of the country because we've all sort of been in enforced prison mode, haven't we, for such a long time. It'll be lovely to get back out on the road again, see different cities and share this wonderful musical with people.
Gomez is such an iconic character. How do you put your own stamp on him?
I was always a great fan of Raoul Julia, who played Gomez in the movies. I wanted to make him quite Spanish, as he was in the films, and to make him like a matinee idol romantic type rather than too silly. I loved the original TV series very much but I wanted to make it fresh and not to be hindered but inspired by Raoul's Gomez whilst trying not to copy him. And the way the composer has written the score it's different for each character, so Gomez gets all the sort of Latin music - very melodramatic and romantic with a Spanish feel to it.
Do you have anything in common with him?
I do secretly quite like growing a moustache in a retro 1970s way. I got quite attached to it when I first did the show [in 2017] and didn't get rid of it for about a year afterwards. With Gomez's romanticism, I'm quite similar to him in that sense, as am I when it comes to his passion.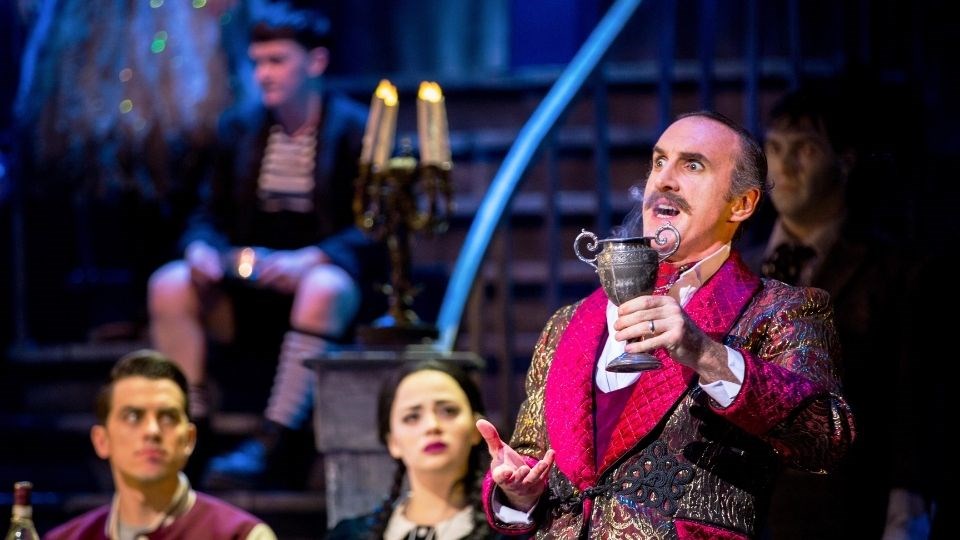 Tell us a bit about your costumes for the show…
I mostly get to wear the iconic pinstripe suit with a bowtie, occasionally smoking a cigar, and I have nice black and white spats. Then in Act Two around the dinner table I'm in a beautifully loud and garish smoking jacket with a cravat.
It's full of great musical numbers. Do you have a favourite to perform?
There's one called Happy/Sad, which is a lovely reflective song that Gomez sings to his daughter about being in love and how much she's grown over the years. It always make me think of my own little girl, my daughter Noelle who turns eight in August. I always think of her when I sing that song and when I first did the show in 2017 I remember I got this big lump in my throat and really struggled not to cry. I thought: 'Oh dear, I need to get control of this. It's terribly un-British of me!'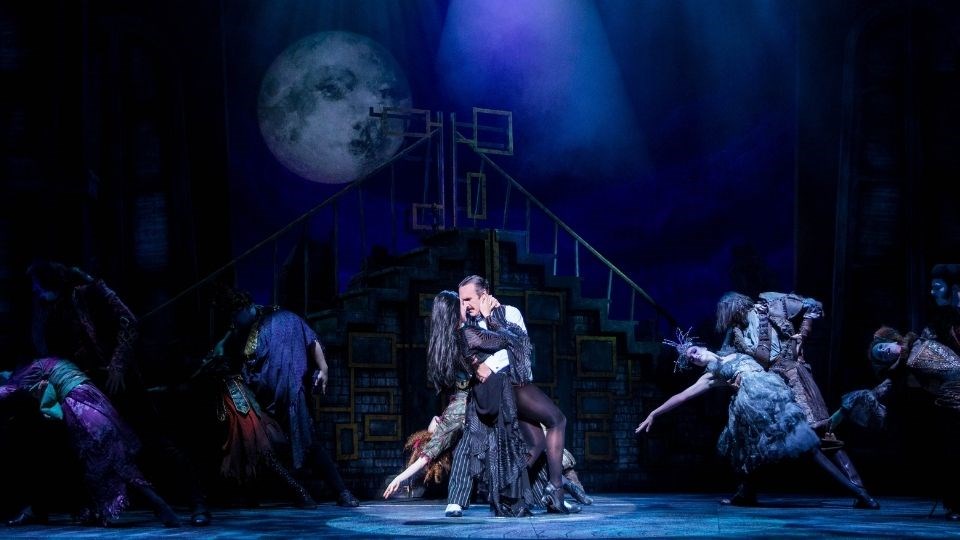 Can you recall when you first encountered The Addams Family?
I think it was the first movie, starring Raoul Julia and Anjelica Huston. I'd grown up knowing about The Addams Family but I was more the age group of The Munsters.
It began life as a cartoon in the 1930s, became a TV show in the 1960s, a film franchise in the 1990s and a musical in the noughties. Why do you think it has endured for so long?
People inherently like Halloween and the macabre, plus there's this mishmash of very odd characters in the same family. There's also the darkness and the fun the Addams family have around graveyards and moonlight. I think viewers are fascinated by the juxtaposition of light and darkness and how it's completely flipped. It's just fascinating and there's so much dark humour you can get out of that.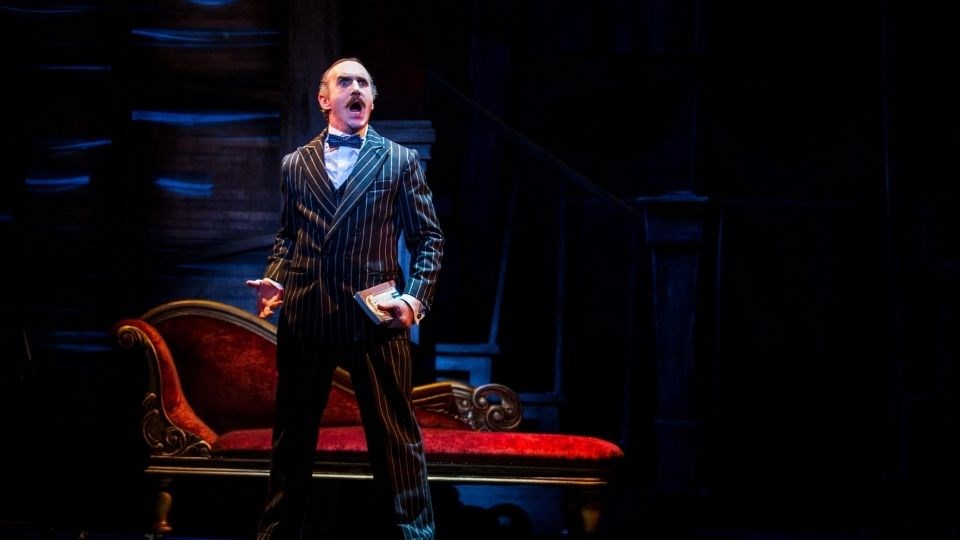 Now you're heading back on tour again, what's the one thing you couldn't be on the road without?
Because I have to stay in shape for the tango number it would have to be my resistance bands. I know that sounds awfully virtuous but this last year I've mainly just been sitting down and driving. There's a five-minute tango at the end of the show looming, so I've started training and running again - which my body hated at first but once all the blisters have settled down I'll be fine. Taking the resistance bands on tour with me means I can keep fit and trim.
Does Edinburgh have any significance for you?
Edinburgh is beautiful. It's one of my favourite cities because of the people, the history and the beautiful buildings. It has such a lovely atmosphere. It's a gorgeous place.
The Addams Family comes to Edinburgh on the 25 - 29 January 2022. Tickets are on sale here.